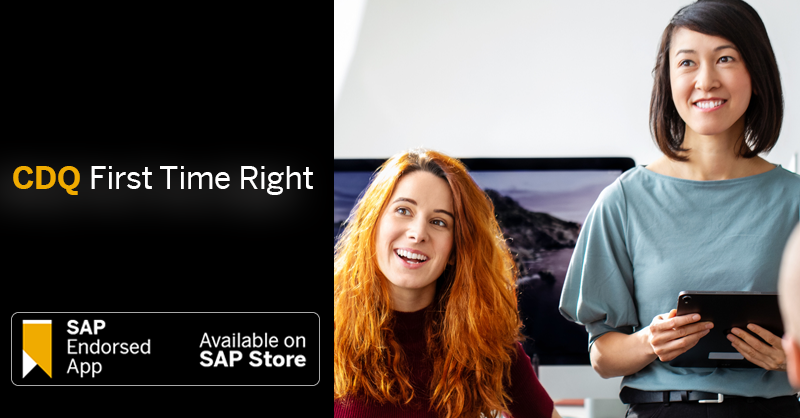 Our CDQ First Time Right has been officially certified as an SAP endorsed app and is available in the SAP store for you. We're excited and proud for being recognized as an innovative complement to SAP solution offering in business partner master data optimization!
A few months ago, we introduced a new standard of onboarding business partners in SAP Master Data Governance, cloud edition environment, powered by CDQ capabilities and underpinned by a common vision for sustaining high quality of master data in a smart and flexible manner.
Fast forward to today, the new standard gains momentum with the official endorsement from SAP, following thourough qualification procedure that covered static code checks, as well as integration-, cloud quality-, scalability- and performance checks. 
First-time-right out-of-the-box 
Besides the out-of the-box-integration in SAP Master Data Governance cloud edition, the CDQ API can be integrated as well in other systems like SAP S/4HANA, SAP S/4HANA Cloud, SAP Master Data Governance on-premise, etc.
The integrated API delivers latest business partner data across the whole system landscape. Business partner data is retrieved from open and commercial data sources. Both integration with SAP, and the connected data sources are standardized components that significantly optimize your business partner master data creation process.
Additionally, the existing business partners can be validated and fixed to constantly ensure high quality of data. Besides time saving in master data creation process, increased data quality leads to improved process in e.g. procurement, compliance, order to cash or disputes.
SAP and CDQ have been working together on solutions to provide customers with even better data quality tools. A standardized and certified CDQ First Time Right app provides these benefits for you:
Reduced implementation effort: Pretested integration enables customers to save on total cost of ownership and cut integration. You can start using CDQ services in SAP MDG cloud edition immediately and benefit from clean data in your workflows.
Accelerated innovation: CDQ First Time Right follows SAP standards for technical integration and supports upgrades with minimal interruptions. You don´t need to worry about IT security and technology.
Less risks & more time: Tested and evaluated implementation lowers the risk for customers and eliminates lengthy or error-prone efforts.
High quality of data: Sustained high quality of master data is one of the common values we share with SAP. Mapped to the SAP One Domain Model, CDQ First Time Right solution helps you create your business partners only with high quality data, and easily keep them up to date.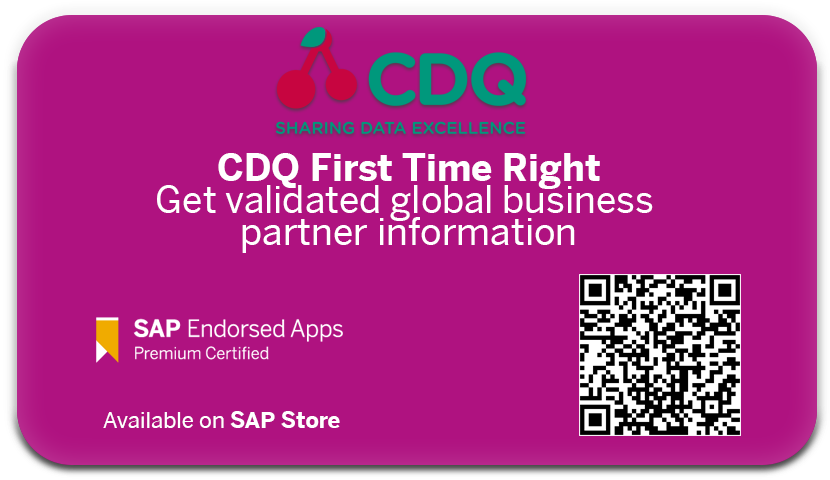 Looking for more details?
Reach out if you want to schedule a meeting or watch the webinar on-demand now!

Related blogs
SAP MDG, cloud edition, seamlessly integrates with CDQ to access trusted data from diverse trade registers and other open and paid data sources. This…
With SAP Master Data Governance (MDG) in place, your goal is to ensure that the data is accurate and consistent across the entire organization. Reliable…
We all know that trusted business partner data empowers organizations to uncover new opportunities, build stronger relationships, and enhance their market…