Collaborative master data maintenance
Shareconomy for better customer and supplier master data
Why maintain your customer or supplier master data by yourself when you can share the burden with others? CDQ has established the Data Sharing Community where companies can share data quality rules, peer-validated data, and best practices with each other. Companies can also enrich their own records with public and premium reference data sources. The CDQ Cloud Platform offers all of this in a secure and highly scalable cloud environment.
In short: Our community offers Data Quality as a Service (DQaaS) for business partner data combined with cross-industry knowledge exchange.
Automated data maintenance
We keep your data up-to-date
Our Data Sharing Community has more than 180 million records in its data pool. These records are constantly being maintained and expanded through the use of more than 1,500 data quality rules and the integration of more than 60 trustworthy public data sources. You won't have to worry about updates any longer: Any changes in business partner data are automatically made available to all of our members.
Collaborative maintenance of business partner data lowers costs by up to 40%
Every company has to work very hard to stay current with data changes. In the last two years, 90% of all data has been created, and this fast-paced change overwhelms even the most efficient data maintenance operations. Data Sharing beats manual data maintenance both in efficiency and quality while lowering costs by up to 40%!
Protect your business from fraudsters
Invoice fraud is a growing problem for companies. Our Data Sharing Community members look out for each other: They use our Cloud Platform to identify and score reliable bank accounts, and also alert each other of new invoice fraud attempts.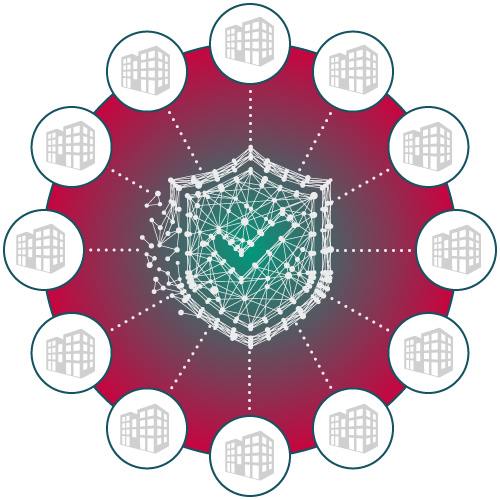 Keep control of your data
Each member of our Data Sharing Community decides which data is shared with others. At the same time, the shared records cannot be assigned to a specific company. To protect the data of our members in the best possible way, we always keep the CDQ Cloud Platform up to date and comply with current security standards.
Leading companies are already members of the CDQ Data Sharing Community
Customer voices about the CDQ Data Sharing Community