Data Quality Solutions & Services
Companies want data they can rely on, but data changes quickly
How can they keep up with the heavy burden of master data maintenance? With constantly cleaned and enriched data, we help you create trusted customer and vendor master data that paves the way to seamless data-driven processes, better business decisions, and to maximize the potential of data for true innovation. CDQ brings master data automation to the data economy. Our vision for your business partner data: zero maintenance, 100% quality.
CDQ enables large enterprises to tackle data quality and data maintenance efforts collaboratively. This results in high master data quality with low manual efforts for our customers. We achieve this by validating against 2,100+ data quality rules, continuously updating existing records, and enriching missing information. Pulling from more than 60 external reference data sources such as open data, commercial registers, third-party services, and shared data from the community, our data quality solutions provide the best master data quality.
CDQ (which stands for Corporate Data Quality) emerged from the University of St. Gallen, Switzerland, and has more than 17 years of data management expertise, spending years on researching how to create and maintain trusted customer and vendor master data. Many well-known global companies from different industries already rely on our CDQ Suite, which offers Data Quality as a Service (DQaaS) and collaborative data management to reduce their data maintenance costs significantly.
Latest articles from our blog
If you're looking to improve your core business processes, it's important to have reliable and accurate data on your business partners. Data enrichment is one…
How benchmarking can help you find out! Data quality benchmarking helps to identify gaps in an organization's data quality processes and target their…
In today's fast-paced world, change is inevitable. Companies frequently move, update their names, or even close their doors. It's crucial for businesses to stay…
Publication: The Data Value Formula
Today, access to valuable data is a superpower. But just having a lot of data is not enough. In their recent e-book, CDQ data experts from the Competence Center Corporate Data Quality (CC CDQ) explain how to turn data into business value using a simple model – the Data Value Formula.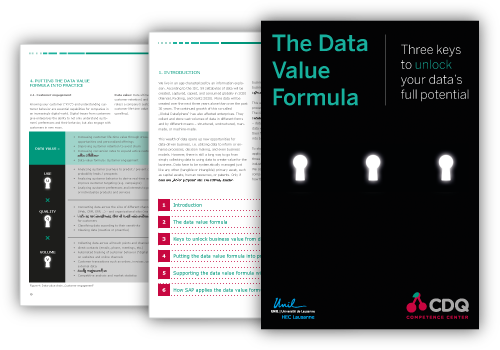 Innovation & research in data management
Competence Center Corporate Data Quality (CC CDQ)
Our customers benefit from data quality solutions that are built on our practice-proven and research-based expertise. Our communities are the collective power of global best-practices in master data management.
SVG
Data Quality Solutions & Services: Customer testimonials