CDQ First Time Right
A smart take on how to create business partner quickly and ensure high quality master data from the start
Master data creation is the starting point of any business relationship and sets the path forward for all subsequent business processes. Begin the right way and with accurate business partner master data at entry point to steer your supplier and customer data management activities in the right direction.
Correct and complete master data
Business partner data creation always right with CDQ First Time Right
When creating customer and supplier records, CDQ First Time Right enables a real-time search of business partners in over 70 open and commercial reference data sources. Based on the set of semantical data quality and validation rules, all available information is combined into a Golden Record and can be easily imported into your enterprise workflows. Avoid entry errors and reduce maintenance efforts simply by onboarding your business partners first time right.
At a glance
Your automated verification for safe and trusted business relationship comes with CDQ First Time Right
No more document mining and error-prone manual fatigue
Search for existing duplicates in own data records to avoid further replication
Complement search in external data sources and create augmented record
Open registries complemented by CDQ Data Sharing Pool
Address cleansing and enrichment via external address data sources
Rule based data quality check ensuring no latencies or broken dataflows
Tax identifier qualification against trusted authority services
One tool to integrate and direct connection to all relevant data sources
CDQ Cloud Services connect you directly with your personal choice of local registers without a time delay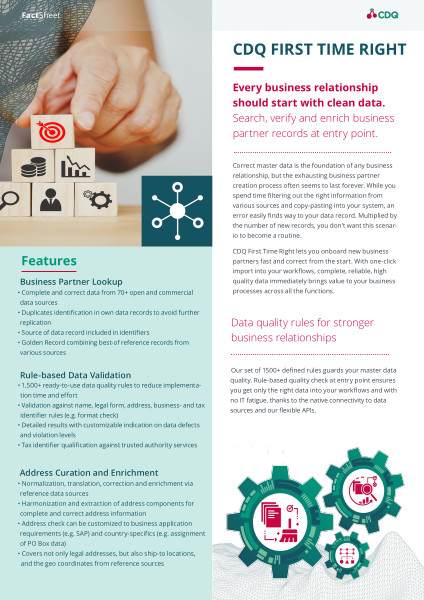 Download factsheet
Data entry accuracy in a single interface
Creating master data for solid relationships
Our data quality rule know-how is based on more than 200 data quality projects completed over the last 17 years. The set of 2,100+ defined rules are consistently influenced by our sharing community and updated by CDQ domain experts. Guarding crucial master data creation components, they are key to making your data fit for purpose right from the start. Rule-based quality check at entry point ensures you get only the right data into your workflows without questioning accuracy of data over and over again.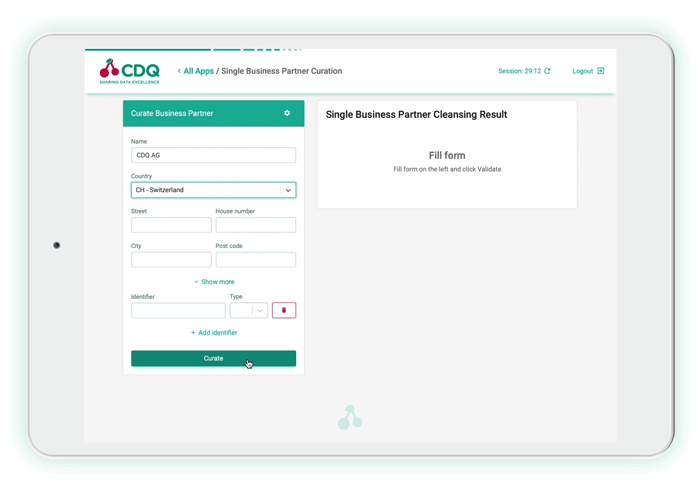 CDQ First Time Right key capabilities
We provide 200 million peer-validated records from 70 trustworthy reference data sources and a set of 2100+ data quality rules to help you define, onboard and maintain the right data for your business relationship.
Thanks to the native connectivity to data sources and our flexible APIs, you can import complete, reliable, high quality master data into your workflows in a matter of minutes and immediately bring value to your business processes across all the functions.
Our software solution enables the standardization, enrichment, cleansing, translation, and geo-coding of your business partner legal forms, legal addresses, tax numbers or legal entity data, enabling cross-corporate and cross-country data management.
CDQ First Time Right helps to deal with different languages, abbreviations, and country-specific writing rules of addresses. With 2,100 data quality rules and more than 70 reference data sources, business partner data enrichment goes easy: missing information are augmented, incorrect attributes are fixed and your data is fit for purpose in a matter of minute.
Create augmented record at speed. CDQ Golden Record is calculated for you using all data available to you and ensures transparency of data origin on attribute level. This most complete and validated record is composed of internal and external data sources integrated into the CDQ Suite.
CDQ First Time Right lets you onboard new business partner fast, clean and correct from the start, turning data into source of truth for your business decisions and processes.
Discover the CDQ Cloud Suite Solutions