SAP Integration with CDQ
Simplified master data creation in SAP powered by CDQ capabilities
​
With CDQ external sources integrated directly into SAP MDG, Cloud Edition, you can now enjoy a websurf-like experience for your customer and vendor master data processing, while increasing data quality!
SAP software integration
Automated SAP master data management
Creating business partners from scratch can be time consuming and error prone. Research for relevant information, all the manual fatigue, double checks and assessments not only generate costs, but lead to duplicates, errors, and unstandardized data records that put your business relationship at risk.
CDQ – SAP connector brings a whole different plug and play approach: one gateway between SAP & CDQ provides full flexibility and connects external sources via CDQ directly into SAP MDG Cloud Edition. As a result, you get the most current information from the official sources and you can one-click-import fully complete and correct business partner information directly into the system.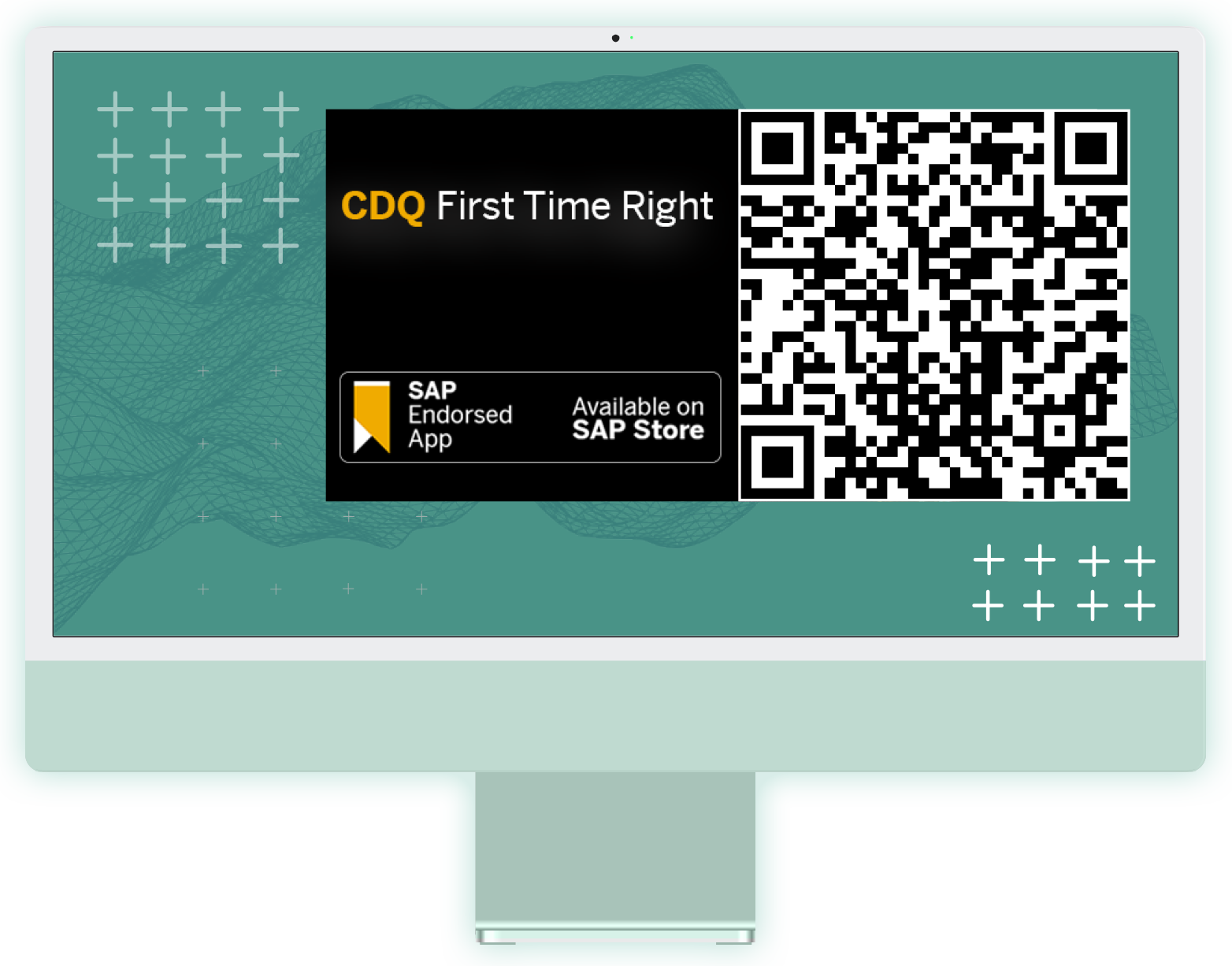 Look up and create business partner with just one click
Creating master data from external reference sources
Save time, reduce compliance risk and avoid any duplicates simply by using Look up and Create functionality in SAP MDG, cloud edition. Connected directly to CDQ Cloud Services, it provides a web search experience for your business partner data in a convenient user interface. With easy technical setup and direct accessibility, this game changing integration brings the best of CDQ First Time Right capabilities to your SAP landscape with zero IT fatigue and a flexible API-first approach.
At a glance
70+ data sources (including premium) powered by 2,100+ data quality rules make your SAP master data golden right from the start
Speed
Business partner data ready to use in minutes instead of hours
Experience no latencies or broken dataflows
Accuracy
Use only up-to-date and complete business partner data
Automate instead of researching siloed data sources manually
Improved productivity and data quality
Complete, correct, fit-for-use data from 70+ external data sources provided by CDQ
Golden Record augmenting results from the international registers (including premium data sources like BvD and D&B)
Plug & play for SAP MDG, cloud edition
Lean process in your SAP landscape with the same look & feel
Easy technical setup and direct accessibility for the users
Automated master data creation with CDQ First Time Right
Direct import from various trusted, open, and commercial sources into SAP
API-first approach enabling further configurations
Download factsheet
CDQ – SAP Integration key capabilities
CDQ has direct connection to the official registries in 44 countries. This gives the benefit of a seamless integration of the original data with no or minimal latencies. Additionally, the data reach from our Data Sharing Community is even wider.
Complete and correct data from 70+ open and commercial data sources. Open sources and commercial data sources can be activated and used according to needs to retrieve real time data.
The CDQ Golden Record is the most complete and validated record composed of all internal and external data sources integrated into the CDQ Suite.
Integration of SAP Master Data Governance, cloud edition and CDQ's services is based on a pre-configured mapping and can be conveniently activated as a standard solution in SAP. We offer services to adjust the mapping in case further customization is needed. All existing customers can benefit from this data provider integration right away and enjoy a one-click business partner onboarding process.
Discover the CDQ Cloud Suite Solutions
More data management knowledge