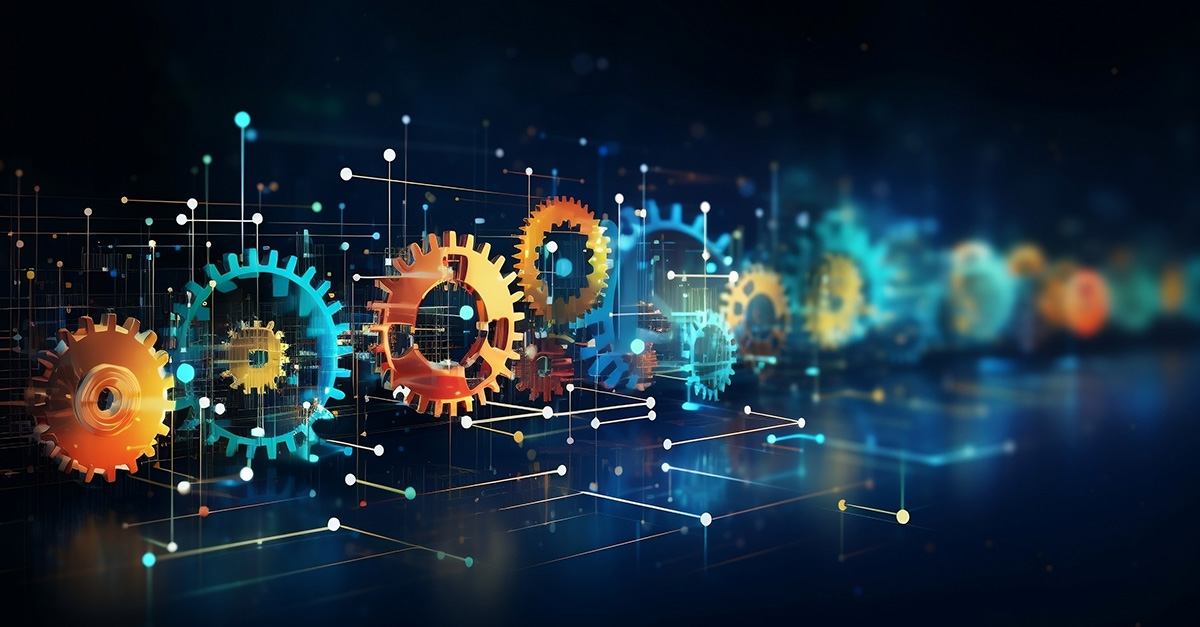 With SAP Master Data Governance (MDG) in place, your goal is to ensure that the data is accurate and consistent across the entire organization. Reliable information about customers, products, employees, suppliers, and more, are crucial to make the most of SAP environment and bring the expected business results.  
With SAP MDG October release, access to high-quality business partner data, compatible with SAP's data model is easier and more seamless than ever. The DPI feature from Central Governance serves as the gateway for incorporating CDQ's services into SAP MDG. It is accessible in both the SAP MDG, cloud edition, and in the cloud-ready mode of SAP MDG on S/4HANA. 
For customers, this translates to CDQ integration being readily available across various platforms, including SAP Business Suite, S/4HANA on-premise, and both private and public cloud deployments through SAP MDG, cloud edition. Additionally, it is accessible for those using SAP MDG on S/4HANA, also known as SAP MDG on-premise.  
Feature Highlights  
Let's now look at some feature highlights. Essentially, it is about the creation of new business partner data and the maintenance of existing business partner data records. SAP MDG serves here as an entry gate for new data in terms of first time right and for an integrated view on existing respond data records for quality assurance. Unless stated otherwise, the examples begin with Manage Business Partners app.  
 
Highlight 1: Access to 70 trusted data sources in parallel  
This is the basic feature of CDQ integration in SAP MDG. The lookup allows access to CDQ's data pool, which contains high-quality business partner data from various trusted data sources. When you make a single lookup request, it searches up to 70 external data sources simultaneously and presents the best matches in a uniform format. You can then make your choice, using additional criteria that were not included in the original request but are evident in the matches, or using your personal evaluation of a specific data source. The example below searches for CDQ in Germany. 

The following figure shows the search result for CDQ in Germany with five found reference records. Under the company name of each item, the prefix of the record ID indicates the data source for the corresponding record. For instance, DE.RC stands for the German Register of Commerce, DNB represents Dun and Bradstreet, BVD denotes Bureau von Dijk, and AT.FON refers to Austrian FinanzOnline. The first item is marked with GR, Golden Record, a consolidated version of the data from all other records using a prioritization logic.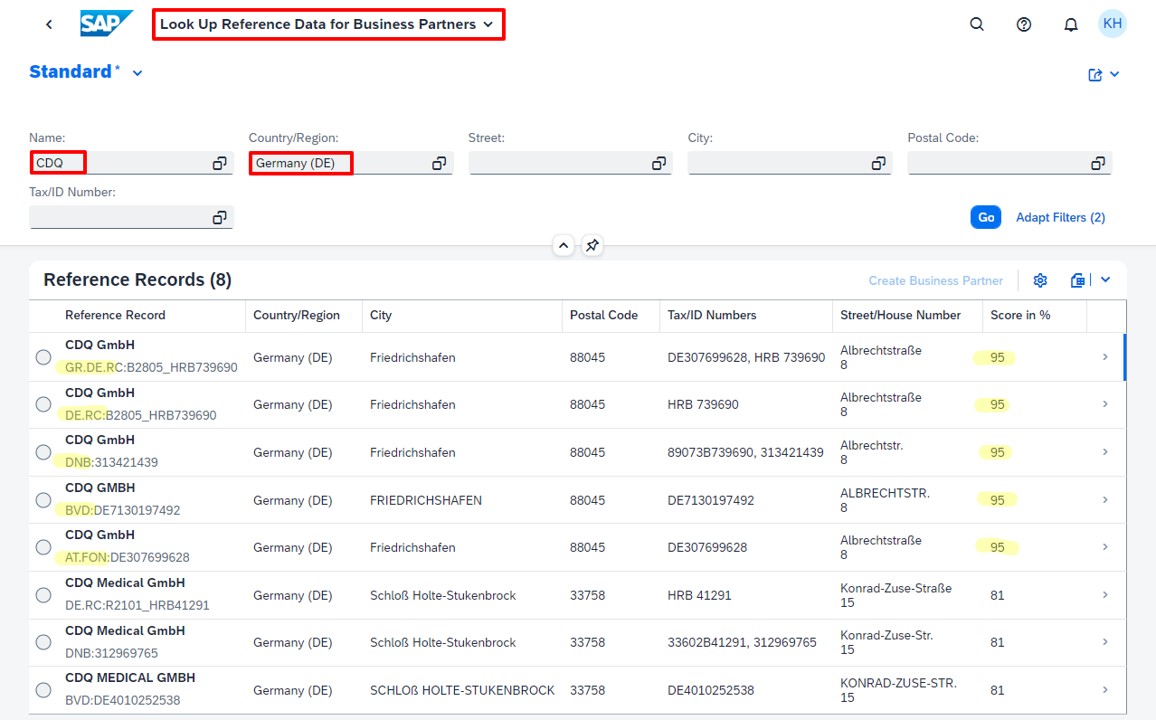 Highlight 2: Integrated view on business identifiers from various sources  
In SAP's One Domain Model (ODM), which is the conceptual basis for the data model used in SAP MDG, cloud edition, and the cloud-ready mode of SAP MDG on S/4HANA, there are two key types of identifiers for business partners: Identifications and Tax Numbers. Both are vital components of various business processes, requiring precise semantic mapping to external data. While SAP MDG allows for customized code lists, we strongly recommend sticking to default settings, especially for tax numbers due to their deep integration in tax-related processes.  
A significant benefit of using CDQ's trusted data integration is that it offers business partner records that are already mapped to SAP ODM. This includes both identification types and tax number types. For example, if you find a matching business partner with a value-added tax (VAT) number in an external data source, this information will be automatically mapped to the corresponding SAP tax number type code.  
In the example of CDQ in Germany, the ID of the German Register of Commerce is mapped to BUP002, which is the SAP identification type for business register numbers. And additional information such as the responsible institution is mapped to the corresponding SAP ODM field.  

Highlight 3: Golden Record  
As the search result for CDQ in Germany shows, multiple relevant reference records for a particular business partner may appear across various data sources. The Golden Record feature addresses this issue by consolidating information from multiple sources into one consistent record, with a prioritization of data sources that is customizable and country-specific. As shown in the figure below, the European VAT number is included with information from the German Register of Commerce and mapped to the SAP tax category DE0. And the region is added with code BW according to the SAP standard code list.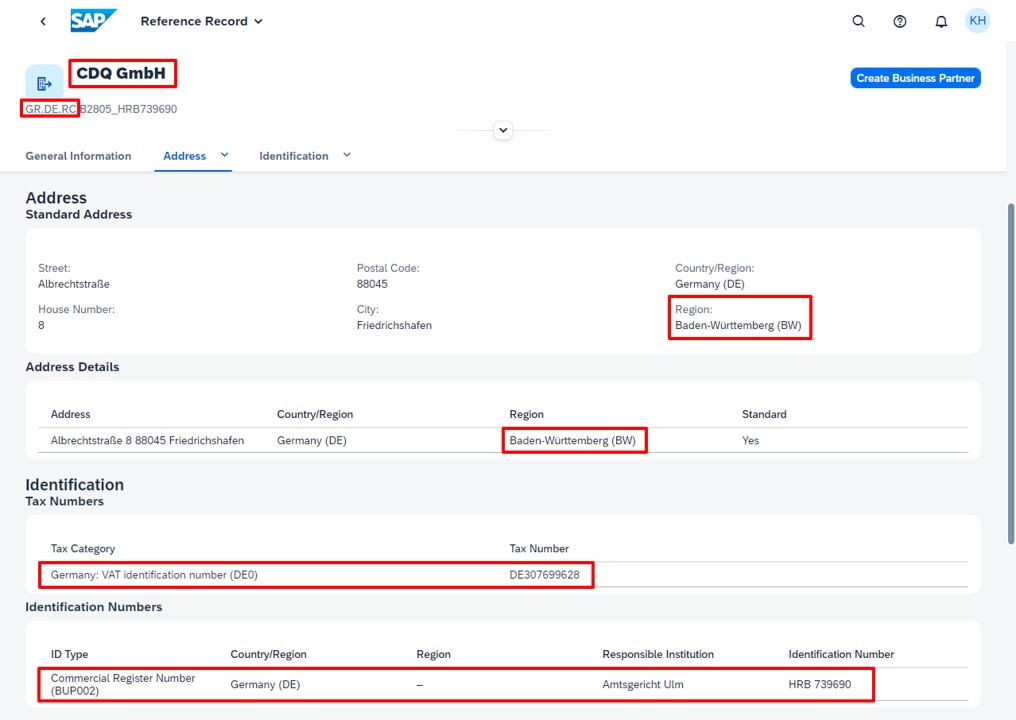 Integrated data sources are not limited to German or European authorities but include a variety of sources from around the world. For example, the Legal Entity Identifier (LEI) in the following example is just one of many IDs that can be accessed. Trusted data sources from various US state registers, Brazil, Australia, and other countries are also available.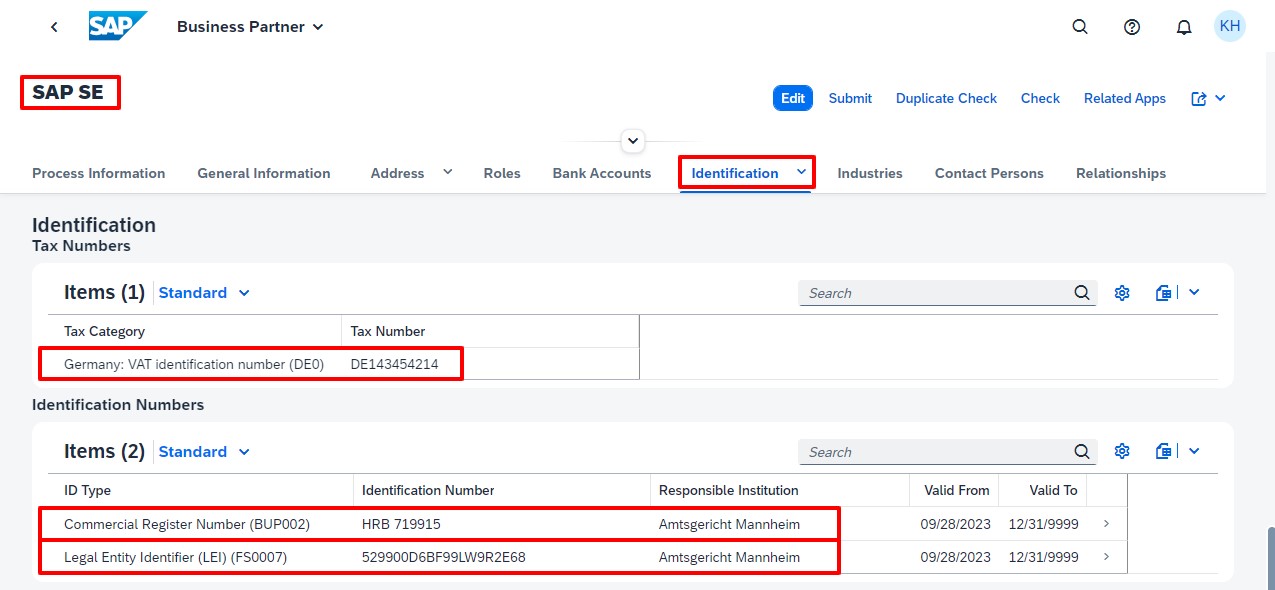 Highlight 4: Uniform categorization of legal forms  
Understanding a business partner's legal form is crucial for global risk management. Legal forms are defined differently in various countries, adding complexity to this matter. Some data sources offer structured information on legal forms, while others include it informally as part of the name, and some do not offer this information at all. SAP ODM addresses this by providing a legal form attribute within a business partner's organizational details. However, this attribute has limitations such as a two-character code and various namespace restrictions.  
To tackle these challenges, we at CDQ have defined about 90 legal form categories. These categories link to the various legal forms and their abbreviations across countries.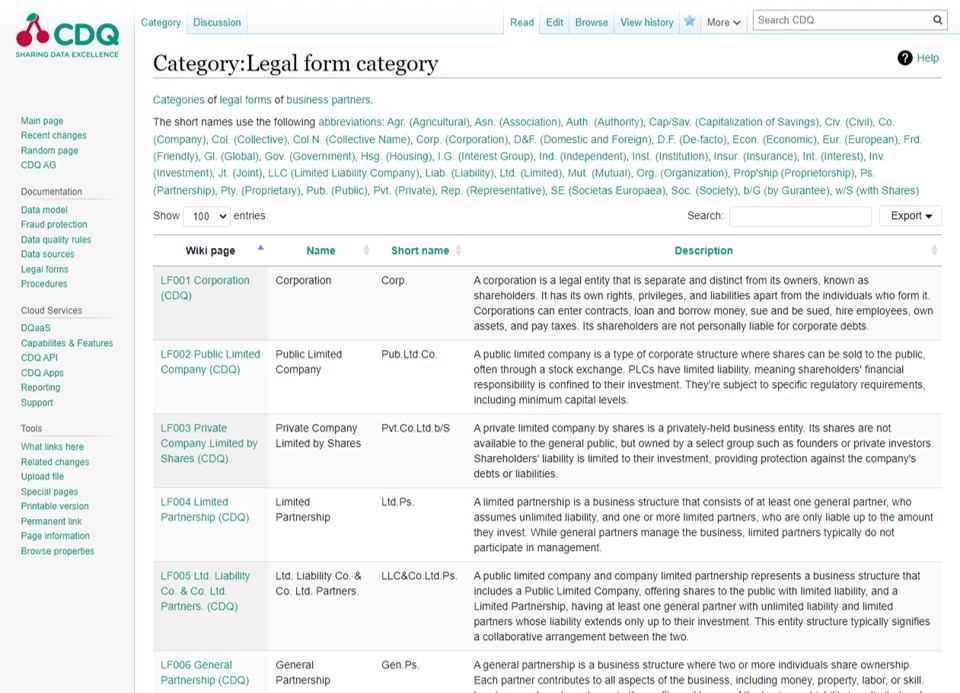 In SAP MDG, the system allows only a two-digit code and a unified abbreviation for the legal form category. However, even with these limitations, you gain a standardized view of your business partners' legal forms on a global scale.  
See the Golden Record for CDQ in Switzerland: The legal form is displayed as Pub.Ltd.Co., with an associated SAP code of 02. This code universally represents public limited companies, capturing both Aktiengesellschaft and Société Anonyme in Switzerland, as well as PLC in Great Britain.  

In the Create Business Partner process, a value help dialog for legal forms becomes accessible, displaying all the legal forms defined by CDQ.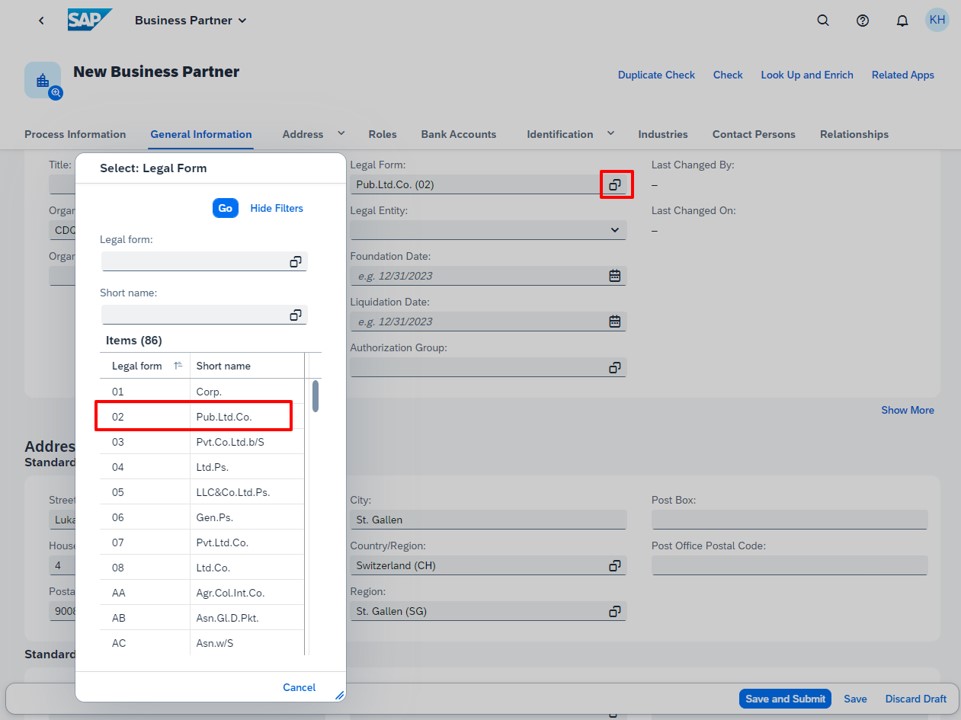 The following examples show Golden Records for CDQ in Germany and Poland. You see that the German legal form AG and the Polish legal form SP Z O O both fall under the same legal form category Pvt.Limited.Co. (private limited companies), represented by the SAP code 07. The uniform categorization simplifies the process of understanding and comparing business partners across different countries.  

The power of this integration lies in its ability to seamlessly connect various data formats from multiple trusted sources: CDQ simplifies the data, and SAP MDG effortlessly incorporates this refined information into your systems. The result? Streamlined workflows for creating new business partners and ensured top-notch data quality. 
Getting started with an evaluation of CDQ and SAP MDG is a breeze. In just a few minutes, you can immerse yourself in the world of operational efficiencies and pinpoint data accuracy.  
---
Related blogs
SAP MDG, cloud edition, seamlessly integrates with CDQ to access trusted data from diverse trade registers and other open and paid data sources. This…
We all know that trusted business partner data empowers organizations to uncover new opportunities, build stronger relationships, and enhance their market…
Up-to-date, complete, error-free – simply correct – Business Partner data in SAP: It has never been easier than it is now. SAP offers with MDG, cloud edition …