Am I in Massachusetts or in Lausanne? MIT CDOIQ Symposium comes to Europe.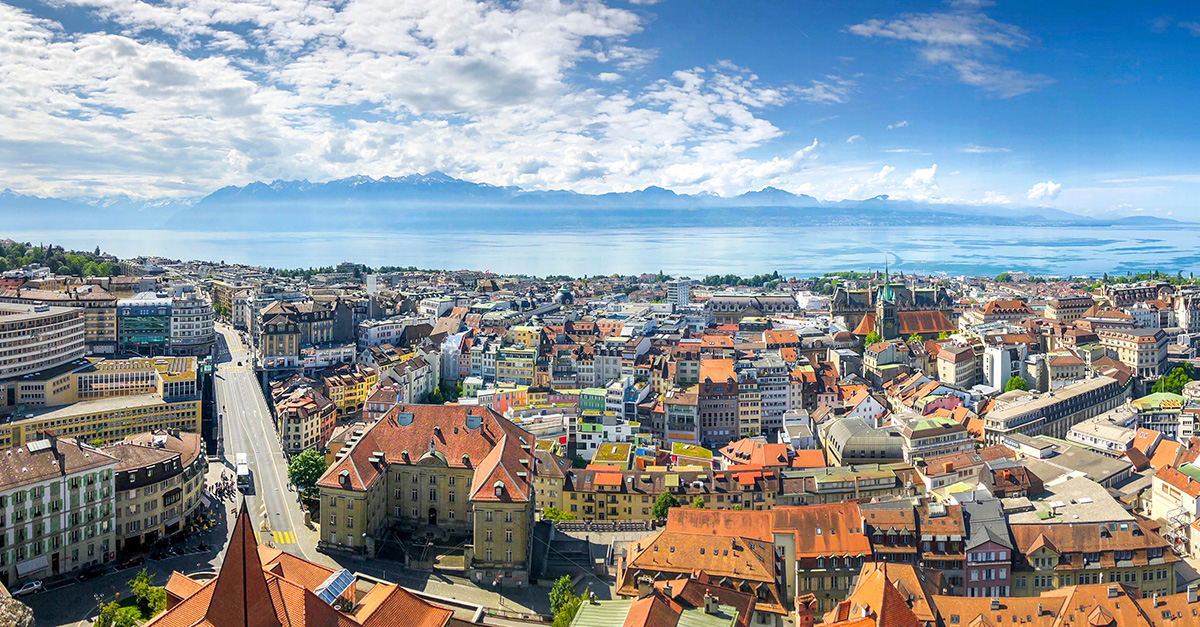 That's a wrap for the inaugural CDOIQ European Symposium at the University of Lausanne. Roughly 180 data leaders from across Europe participated in this vivid exchange on data strategies and discussed data management and analytics beyond own corporate boundaries. Key takeaway: data sharing is future!
But let's start with the basics: The International MIT Chief Data Officer and Information Quality Symposium is one of the key events for data professionals and a platform for sharing cutting edge ideas, content and discussions. Originally established in 1988 as Total Data Quality Management Program, it became the Chief Data Officer and Information Program (CDOIQ) in 2008, as data started becoming a critical aspect of every organization.
This year however, thanks to great coordination by our colleagues from Competence Center Corporate Data Quality, the CDOIQ Symposium was brought to Europe for the very first time and straight to University of Lausanne, where on the 8th of September data leaders from industry and academia collaborated and exchanged on hot topics and ideas around data-driven innovation. And it was a hit indeed.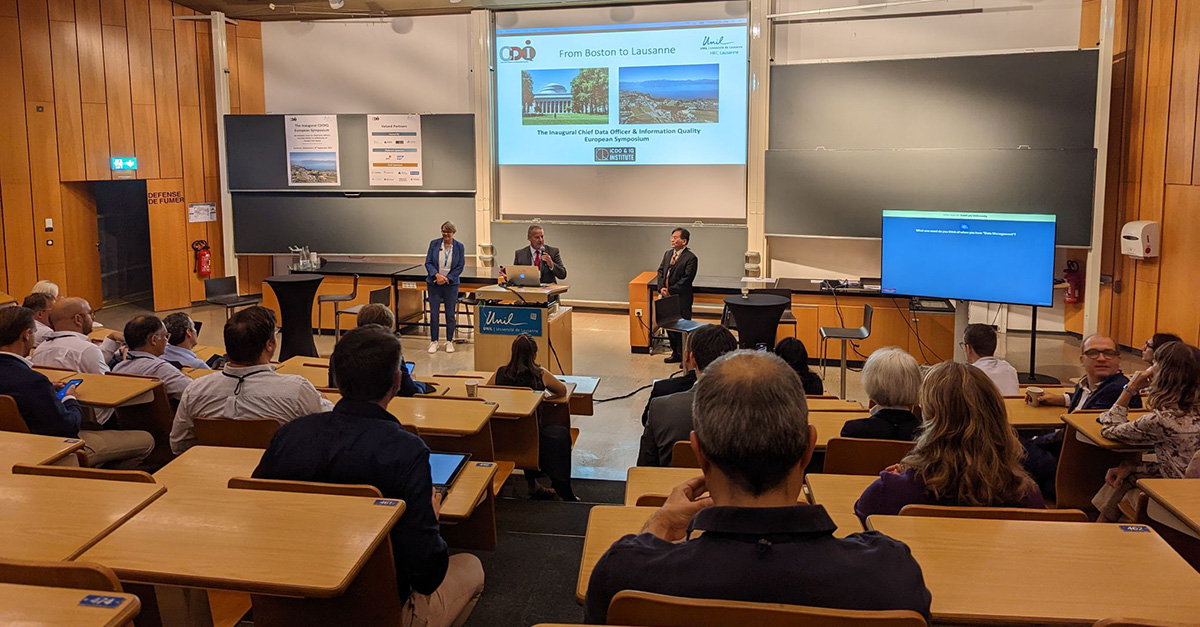 With the long-established brand of the MIT events, the first European edition definitely did not lower the bar. Organized into three parallel tracks (Data Strategy and Management, ML/AI Analytics for Innovation, and Data Ecosystems, Platforms & Democratization) along with keynotes from thought leaders and presentations from industry practitioners, the symposium made one thing clear: 
Paradigms are changing – and data sharing is an increasing data management trend
The Chief Data Officer role has established itself at the interface between classic master data management, data analytics, and digitization management. The breadth of topics is impressive, intimidating at first glance, but ultimately inspiring. What is required is the ability to balance defensive and offensive measures, to keep them continuously aligned with the business strategy. In many discussions, the importance of data foundation was emphasized, topics such as data architecture, data quality, and data governance. In the next few years, it will be interesting to observe which frameworks and strategies develop into standards, and thus give CDOs the space to use data as a strategic asset for business value creation. Particularly in the cross-corporate context, use cases such as sustainable supply chains or effective recycling cycles can then be realized with quality-assured data sharing.
In the end it turns out, we all share similar stories when it comes to data, despite the industry. Collaborative data management feels like a natural consequence and there is so much potential to learn from each other. Not to mention the benefits of sharing the burden with many like-thinking data leaders and automating data maintenance that is otherwise performed manually and in silos.
We're all about data sharing
That's why in a joint presentation with Stefan Peetz from Schwarz, we presented their successful implementation of collaborative data management of business partner data (check here, how Schwarz mastered data centralization, it is a crucial step toward thriving with data shareconomy!), and it was very well received. Key takeaways from the following discussions: 
Data Sharing is a promising way to better data 
For a large enterprise Data Sharing is a strategic element that drives transformation and change 
Data Sharing has many facets, like common rule sets, data quality benchmarking, and effective sharing of updates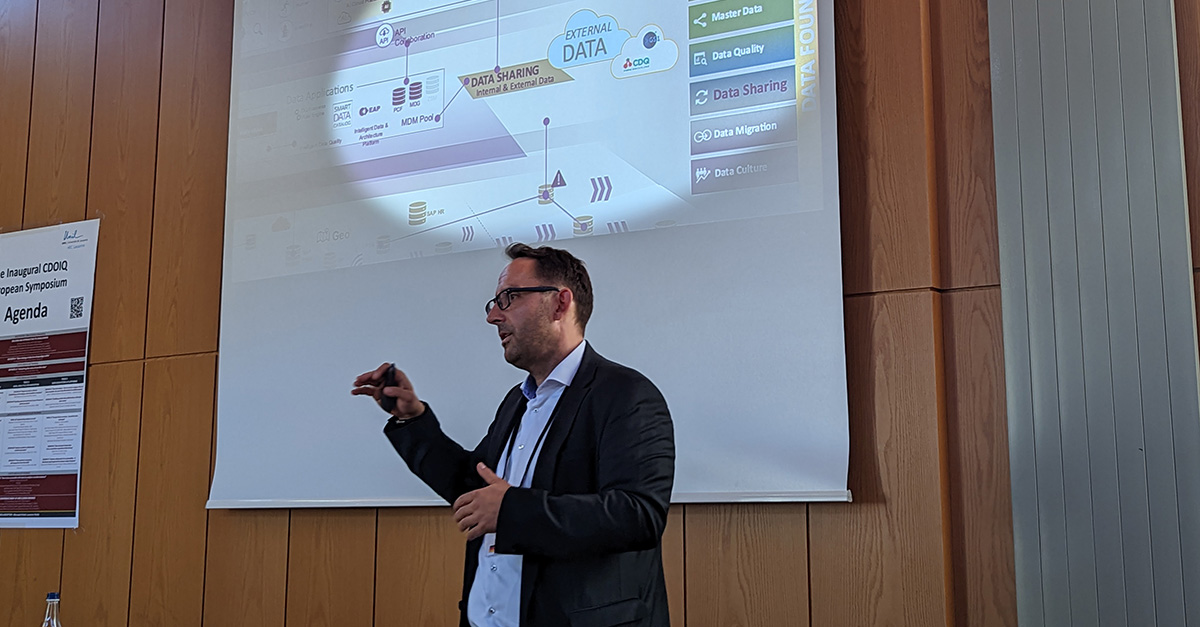 Other topics?  
Ranging from deploying analytics/value at scale to data clean rooms and the applications of blockchain to sustainability. Add a pinch of data-based management and decision making, privacy issues, data storage, access, and sharing within and outside a company, AI, cybersecurity – and you can get a taste of what a day it was.  
With just the right mix of academics and practitioners and a wonderful surrounding of Lake Geneva (plus very good luck with the weather!), it was fantastic to meet people in person again and re-unite with some of the old schoolmates. And it's hard not to get super excited when you meet one of the data legends...  
 
The man who started it all 
For many of us in Lausanne, it was a true honor (and quite a thrill) to personally exchange with Richard Wang, the founding father of MIT CDOIQ, who's academic papers have strongly influenced so many of us.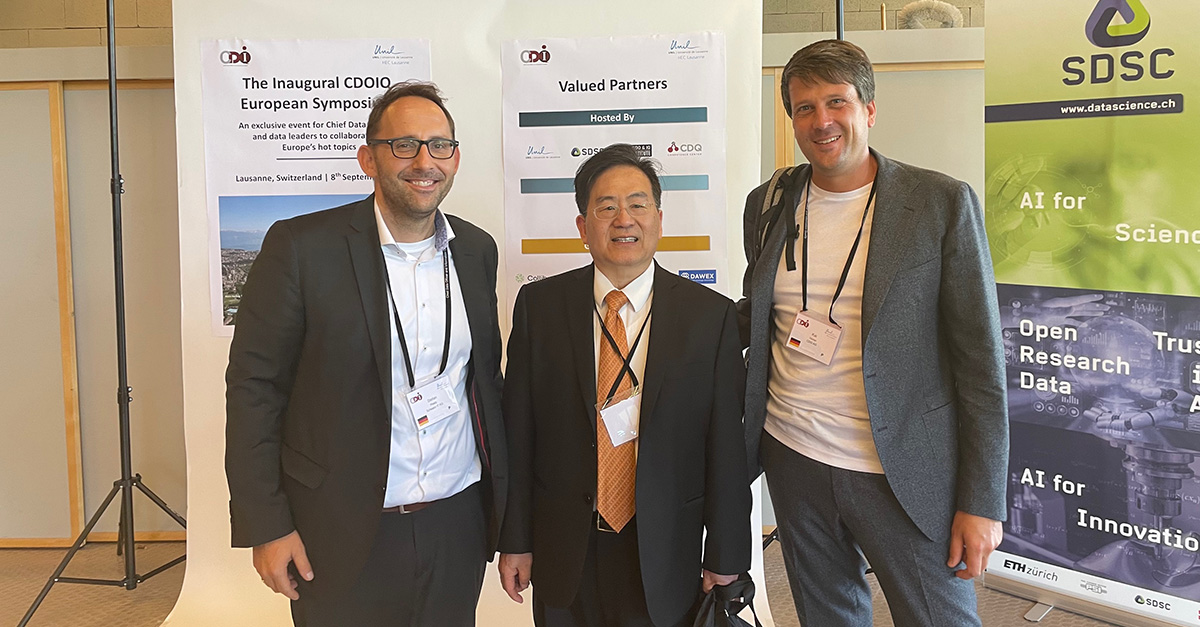 Even after 25+ years, his concepts of data quality and information products are still relevant (maybe even more relevant in our data-rich and insights-driven world). If you're currently into topic of Data Mesh, have a look at Richard Wang's "Manage Your Information as a Product"! You'll be surprised to see, how accurate these insights are despite having been published in… the previous century! It was year 1988, by the way, and the research efforts for this publication laid the foundations of data quality in practice and academia. 
Back to school 
There is something special about University of Lausanne. For so many of us this was like a time travel, only cooler, given how our professional lives brought us back to this lecture hall. In a way, this also played a part in the overall experience.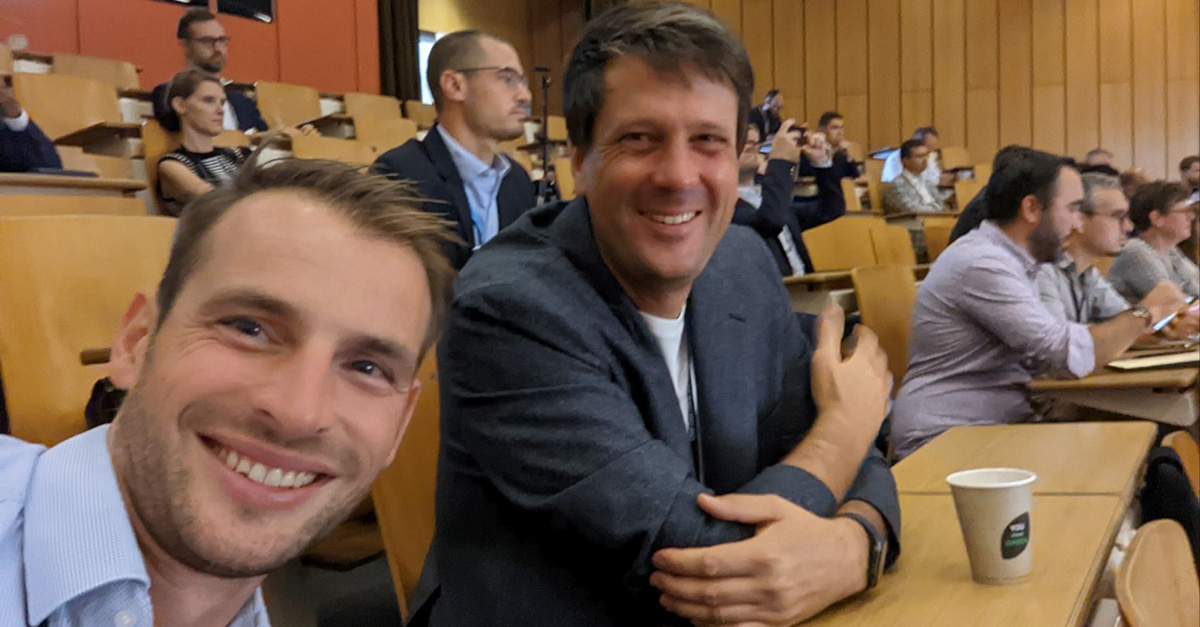 It was an amazing opportunity to meet global leaders in the field of data, and exchange on key problematics, while reckoning the journeys we've been through.
Now, with the Inaugural CDOIQ European Symposium closed, we sure look forward to next year and hope to mark a new data institution in Europe, as the second European Symposium is already planned for September 14, 2023! See you there?
Related blogs
Step into the world of master data management with our CDQ Data Sharing Community workshop, held on April 19-20 in Düsseldorf. Over two invigorating days, 45…
Learn how our clients are benefitting from data sharing approach in these selected use cases.
Today, the concept of data sharing is a well-recognized best practice approach and an undisputed recommendation by market analysts, researchers and public…