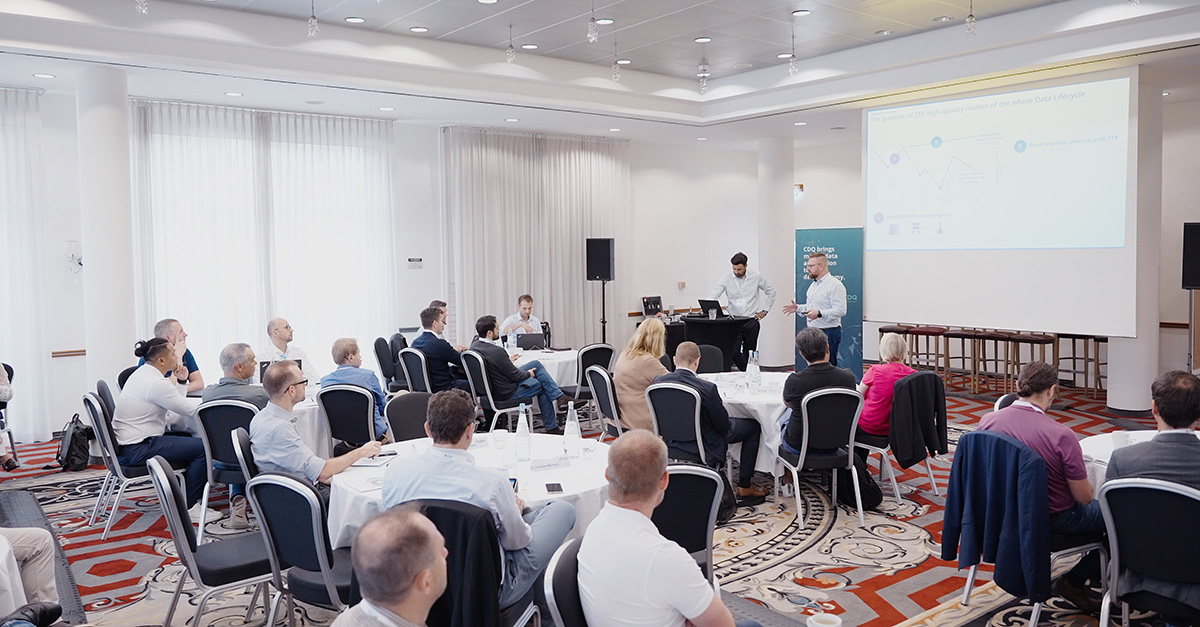 Data Sharing Community met for a hybrid workshop in Wiesbaden on September 14-15 and once again proved, that data sharing is not just a vision, but a reality brought to life by the power of like-minded enthusiasts. It was a fantastic opportunity to exchange best practices, share experiences and inspirations, and soak in quite a unique atmosphere.
With more than 50 participants from 29 customer companies, prospects and two partner organizations, it was an intense and informative time for all parties involved – pretty much the gist of sharing. Our meeting agenda was quite demanding, but participants highly appreciated the chance to tackle all the solutions from CDQ portfolio one by one and with all the needed scrutiny.
But, let's start with a short video recap: 
Down to business
Spanning our entire offering, participants discussed different approaches to CDQ First Time Right, dove deep into CDQ Sanctions and Watchlists with Dovista's use case on sanction screening, learned good practices from Evonik, Novartis and Schwarz Dienstleistungen on CDQ Fraud Prevention, were presented new dashboards and functionalities in CDQ Data Quality Cockpit and got an update on some game changing developments coming soon to CDQ Zero Maintenance.
Integration of CDQ solutions in SAP MDG cloud edition, as well as other on-prem environments, presented by both our Product Managers and external system integrators guest speakers, was an exciting confirmation of the huge potential for collaborative data management enthusiasts to build further synergies for smarter and leaner data.
Different perspectives, similar goals
During lively panel discussions, we had a chance to explore different perspectives on challenges around business partner data. It always amazes me how much our customers have in common in their conversations on their journey through the data world, and then can't stop talking about it – despite different industries and backgrounds they share a passion indeed.
The hybrid setup, although challenging in the beginning, worked very well thanks to a great technical crew. Participants joining virtually were equally engaged in the sessions, and with many interactive elements the discussion was lively and multi-channel. You could literally soak in the sharing vibe and feel the power of community.
Speaking of community, I really cherish the fact, that you get to know people in person – especially after having seen them only on screen during the pandemic.
Data sharing brings people closer together
Data Sharing Community is a very open one, has a lot of ideas and is really fun to work with. During our workshops, many of us have found out that there's so much we have in common, also on the private level.
Example?
There's more than just one, so let me mention two that immediately come to my mind: during a conversation at dinner it turned out, one of our customers lives in close proximity to a village, where the best parmigiano Reggiano is manufactured. And since there was one certain parmigiano Reggiano fan at the table, they spent the rest of the evening speaking Italian, planning some new delivery routes, and shipment terms and conditions. 
My personal highlight was a surprising discovery when talking to another customer: by coincidence we found out that we are practically neighbors and we have certainly crossed paths somewhere before. Now we'll know better and will gladly continue conversation, when we meet each other doing groceries.
Getting things done
To prepare an onsite workshop for our Data Sharing Community, some serious planning is required. Of course there are always many discussions and even more changes to the agenda. A lot of back and forth with the hotel, with external service providers, with our own employees. And in addition to serious planning, some secret skills are needed to. My favorite fun part starts with creation of name badges and place cards – will my printer go on strike or will it hold up? After several workshops I have seriously progressed my expertise and learned a trick or two around the printer's quirks.
Aftermath
Even if fun at times, Data Sharing Community is about progressing perspectives. Workshop in Wiesbaden was definitely a successful one. Customers rated the event very high (an exciting 4,7/5!) and appreciated super professional setup – those participating virtually felt equally engaged, those on-site felt the power of community from many angles.
I am very excited to see where the journey is going and how our customers are making the best out of our services. One attendee made a comment, that he would like to hear even more use cases in the future – I'm sure we are on the right track and will be able to report many successful cases of our customers using CDQ solution during the next workshop in April.
Will you join us there?
Click below and start the journey to better data!
Related blogs
Step into the world of master data management with our CDQ Data Sharing Community workshop, held on April 19-20 in Düsseldorf. Over two invigorating days, 45…
Learn how our clients are benefitting from data sharing approach in these selected use cases.
Today, the concept of data sharing is a well-recognized best practice approach and an undisputed recommendation by market analysts, researchers and public…