Data Cleansing
Get your business partner master data clean not once, but smart!
SVG
Data entry errors, system hiccups, duplicates, and inconsistencies - they all lead to inaccuracies and incompleteness, which have serious implications for your business. With a robust master data cleansing process in place, you can ensure that your data is as clean and accurate as possible, no matter what.
Why your customer and vendor master data need to get clean:
of business partner records show
critical violations
of business partner records
outdate within 1 year*
of business partner records are
unintended duplicates
*Based on our data quality benchmarks
Towards clean master data
Data fit for purpose
Correct data of your customers and vendors is a prerequisite for proper invoicing, authority tax reporting, or reliable compliance checks. At the same time, manual data maintenance is time-consuming and error-prone due to the various country-specific reference data sources, as well as volatile business landscape.
By checking against 2,300 data quality rules and more than 70 reference data sources, CDQ gives you a comprehensive tool for handling any missing information in your business partner data, incorrect attributes, or duplicated records, making your data fit for purpose.
Utilize CDQ out of the box services in a structured process to get your master data clean - not just once, but continuously.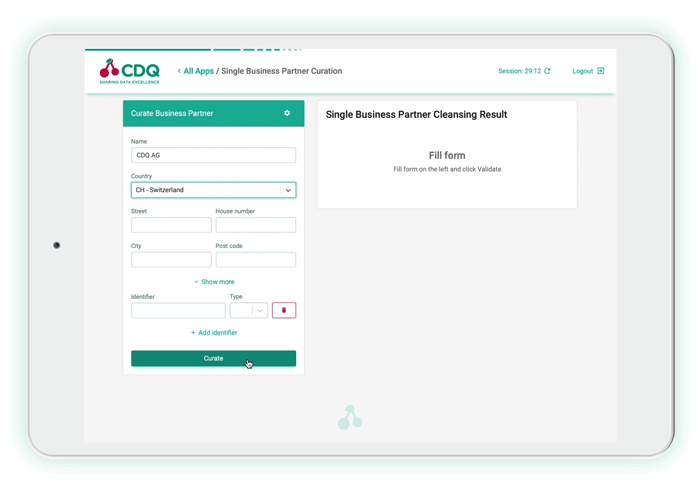 Getting master data clean is just the beginning
Is one-off cleanup enough?
Get clean to stay clean
At least one data record for your business partners has changed since you have opened this website. We know this because our 'Business Partner Update Monitoring' counts 43K changes every day in address information alone, including minor and major changes.
That's one update every two seconds!
How do you keep track on all other changes include address updates, new financial status, new owners or legal forms, fraud attempts, or bank account changes?
Sustainable approach to maintaining high quality data comes with CDQ Zero Maintenance solutions, that keeps track on all business partner updates and automates your master data monitoring on an ongoing basis.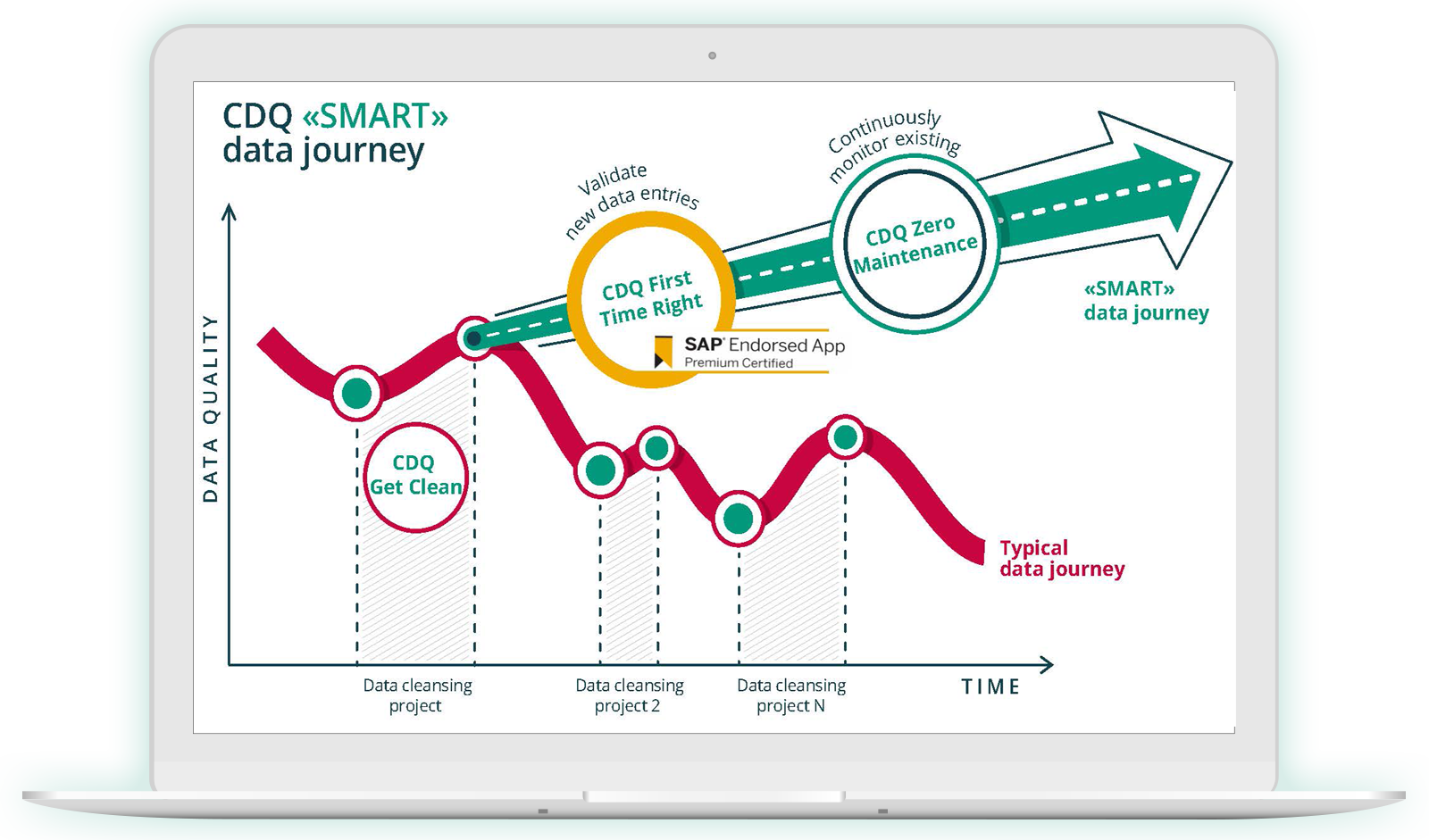 Getting data clean with CDQ
CDQ Client Spotlight: Kuehne+Nagel
Effective data cleansing of 4 Mio. global customer records

Speed
2y to cleanse 80% of data
The first ever global process for cleanup of duplicate customer records included 29 largest countries

Trust
660,000 duplicates eliminated
equaling 17% of customer records in scope, that used to complicate daily operations and analytics

Efficiency
Lean review process
for 400 reviewers in various functions of 4 business units of Kuehne+Nagel

CDQ Client Spotlight: Bayer AG
Effective data improvement for one of Germany's biggest mergers

Speed
10 weeks
1.3 Mio BP data records from Bayer and Monsanto merged and improved within 10 weeks

Trust
97%
of duplicates identified correctly

Efficiency
80,000 less duplicates
Duplicates can slow down decisions and processes
At a glance
How CDQ can help you
Get clean and stay clean with our best in breed software solutions and 18 years of hands-on experience in corporate data quality. Integrate CDQ solutions to your system via APIs to enable continuous maintenance and improvement of your data stack.
We give you a comprehensive solution for managing the quality of business partner data, including data cleansing, data enrichment, data standardization, and data governance - not limited to syntax but also including semantic checks. And the data quality rules are already in place, so no configuration is required by the customer
CDQ-supported get-clean project requires minimum effort on your side and is fully facilitated by our Customerr Success Manager and Solution Architect. All steps in the project can be customized and adapted to your specific needs.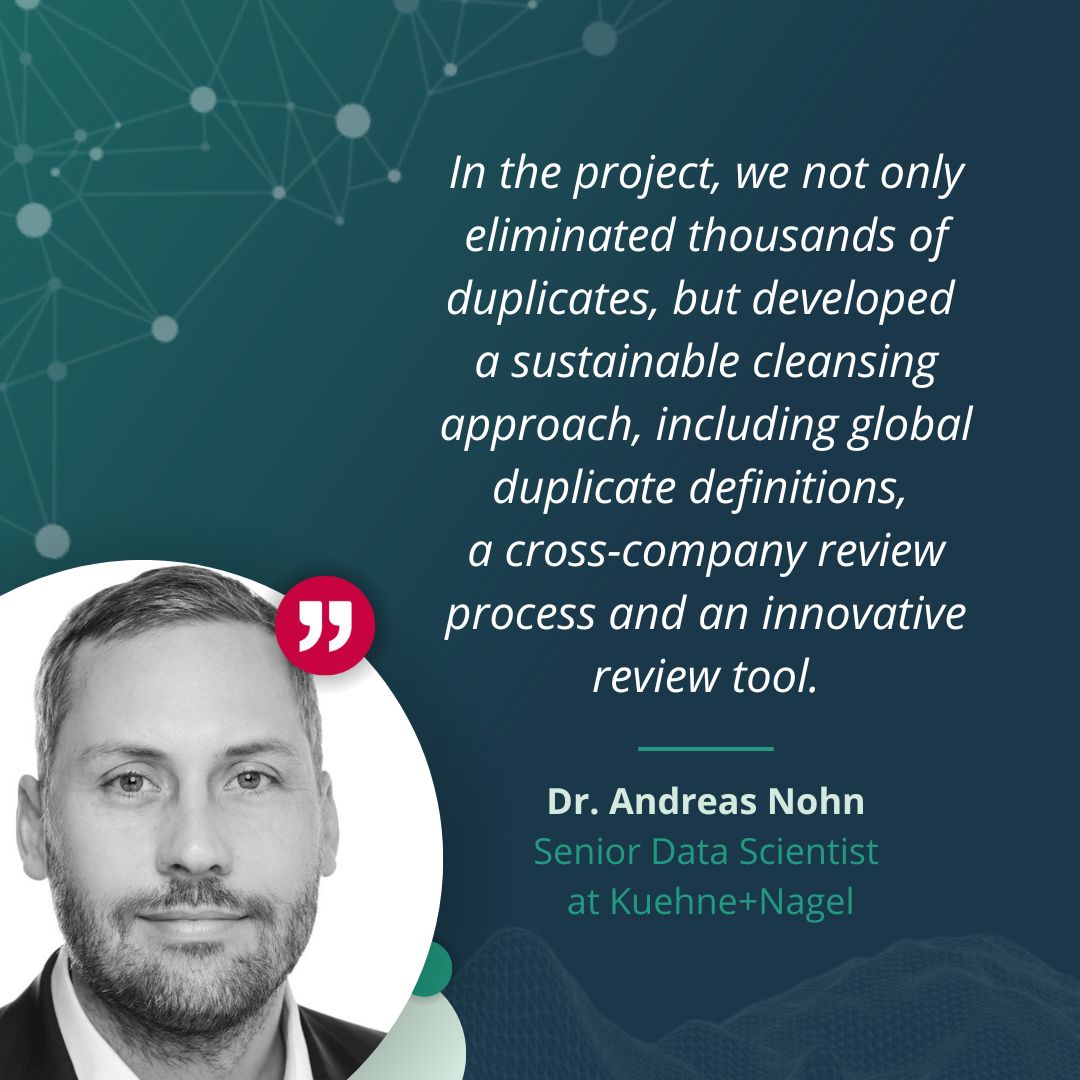 Ready to cleanse?
7 steps towards clean data
Business impacts of bad master data
Read all about the impact of low quality master data and see precisely, why getting them clean is a must. Are you aware of all the consequences that incorrect, outdated customer and supplier data have throughout you organization?
Learn how major business functions can be impacted and how to mitigate the associated risks with an easy to use, cloud-based solution.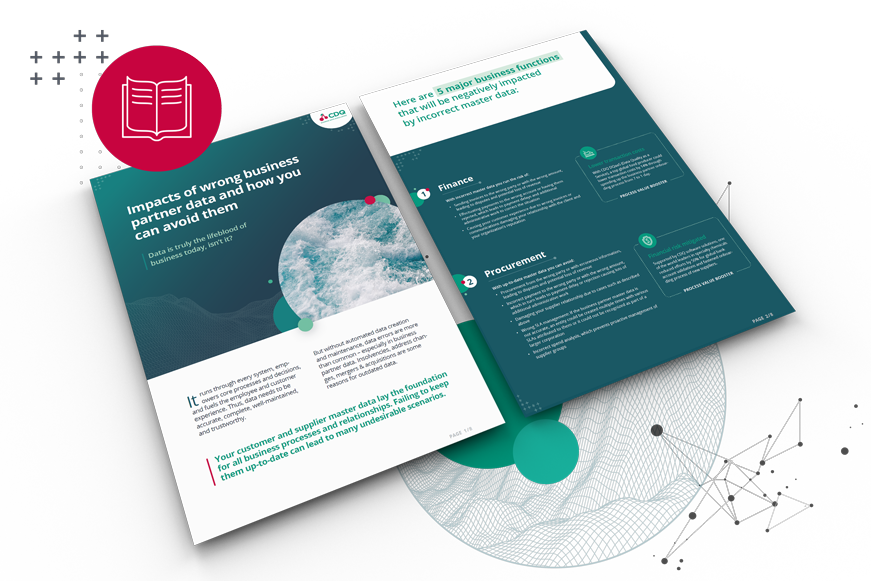 Recommended solutions
More trust: Asses data
Find out how much of your existing data is correct, complete and fit-for-use. Rule-based assessment of data quality reveals any duplicates and errors across your business partner datasets. Our platform is open to all connected registers – including audit-trail.
You can gain instant understanding where the quality of your business partner data is already sufficient, where are defect clusters, and where is a specific need for prompt action.
CDQ Data Quality Cockpit includes all capabilities essential for your get clean project.
More efficiency: Maintain data
Once your master data is clean and correct, CDQ Zero Maintenance capabilities will help you to keep track on any business partner updates that are typically overlooked, and thus pile up creating a need for new get-clean efforts. Instead, keep your data in shape and up-to-date.
Continuously monitor correctness of tax ID and address details of existing business partners. Automated ongoing validation ensures you are always working with the most up-to-date information and any changes of data records are prompted to you in the system and through push messages.
CDQ Data Sharing Community provides trusted environment to tackle business partner updates even more efficiently.
You might also like
If you're looking to improve your core business processes, it's important to have reliable and accurate data on your business partners. Data enrichment is one…
It goes without saying that data is the foundation of any successful organization. It drives insights, informs decision-making processes, and plays a key role…
Have you ever had the challenge to connect two different systems in your company holding two different sets of customers? Have you ever tried to base a…
Discover the CDQ Cloud Suite Solutions