CDQ Zero Maintenance
Automated master data updates for better data quality and continuous process improvement
The most constant thing about customer and vendor master data is change: are you able to monitor each data update following name or address change, mergers and acquisitions or insolvencies? With CDQ Zero Maintenance no change by your business partners goes unnoticed.  
Proactive & continuous data monitoring
Smart solution for more efficiency in data maintenance
Along with frequent business partner data changes, additional effort of monitoring commercial registers and other reference data sources poses data quality drop risk. 
If changes are ignored, an invoice may bounce, an analysis may be wrong, or a process failure may occur. 
 
CDQ Zero Maintenance automates monitoring of business partner data and identifies any changes that apply to a record. By monitoring over 70 trusted data sources and additional updates from the Data Sharing Community with more than 200 million records, we provide you with continuous updates of your business partner master data that can be easily imported into your ERP or CRM system.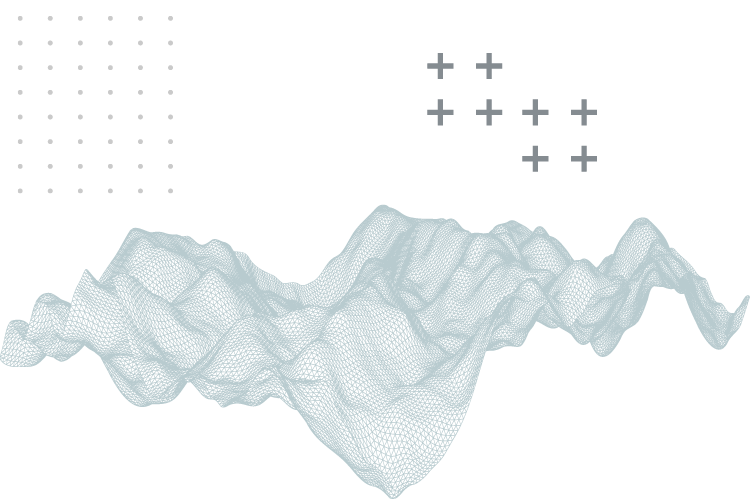 CDQ Zero Maintenance automatization technology
Rule-based data maintenance: better data at reduced costs
Time consuming maintenance and manual approval of change requests is costly, but our ready-to-use automation rules help you play it smart: with configurable criteria of criticality, you don't need to spend time manually accepting insignificant changes. Import the updates with just one click, or configure your workflows to accept specific changes automatically.   
Updates from the community data pool or from other trusted sources can also be automatically approved. Incoming updates can be customized to your preferences so that you receive only the specific information you need.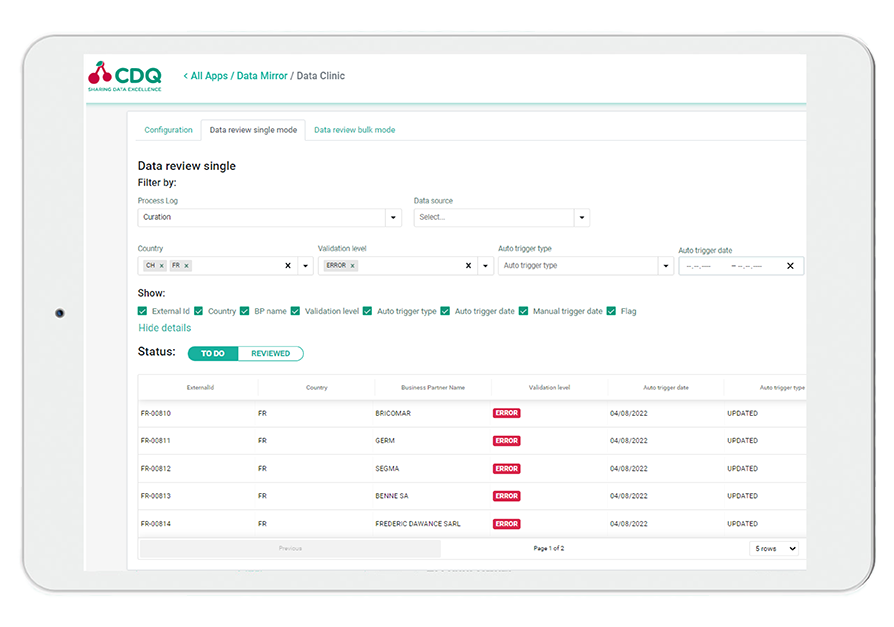 At a glance
CDQ Zero Maintenance enables automated data maintenance of your business partners with maximum quality and minimum effort
Automated data entries by customizable company-specific business rules
Validated updates from peers and 70+ trusted data sources 
CDQ's Data Sharing Pool complementing open sources 
Pre-defined reports with data remediation suggestions 
Insights for different lines of business, e.g., sales, procurement, or IT 
Batch data enrichment and curation 
Data quality benchmarks, maintenance performance and other KPIs​ 
Company specific configurations available 
Updates retrievable in web apps, batch reports or via APIs 
Fully automated business partner data lifecycle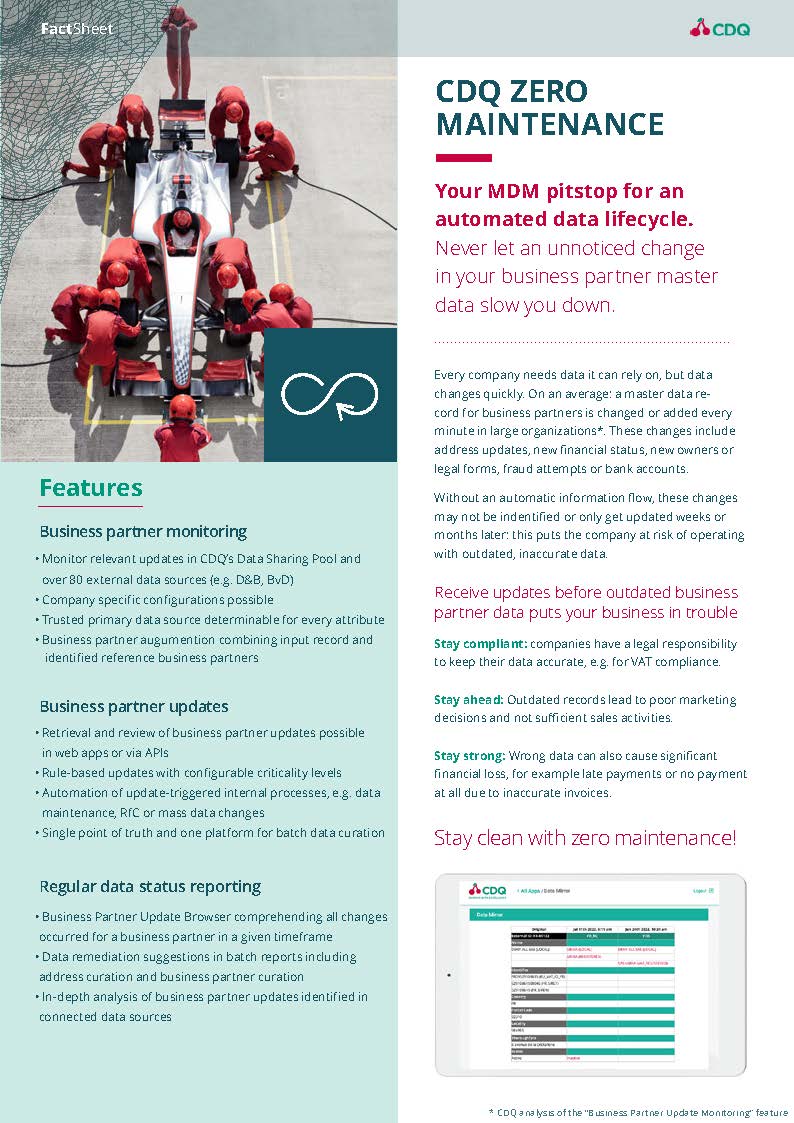 Download factsheet
CDQ Zero Maintenance key capabilities
Instead of manual effort, automate your data monitoring by leveraging external data sources and CDQ's Data Sharing Pool. Monitor business partners regarding data quality, compliance, and risk to avoid processes failures and ensure timely data clean up.
Automatically receive continuous data updates from CDQ's Data Sharing Pool and external data sources. Get validated business partner data updates from peers and trusted data sources. Adjust criteria of change criticality (major vs. minor) to create your own automated workflows.
Receive data remediation suggestions in batch reports from our Cloud Platform. Benchmark your data quality, maintenance performance, and other key performance indicators against industry peers and the whole Data Sharing Community.
Discover the CDQ Cloud Suite Solutions
More data management knowledge