CDQ Data Quality Cockpit
Real-time quality improvement tool to unlock your business value
With CDQ Data Quality Cockpit you can analyze and measure data quality of your business partner data. Find out exactly where investments are needed to fix low quality data, get a full picture of your data quality status in real time, and track how you perform against industry peers.
Your 360° cockpit for business partner data
Good business requires good data quality
Frequent remediation, additional resource needs or compliance issues are the common data management struggle when poor quality data flows through the systems. The actual costs are substantial: on average, companies lose $12.9 million a year because of customer service degradation, supply chain mistakes, compliance challenges or major operational failures. To improve data quality, you must first be able to measure it. 
Where is the quality of your business partner data already sufficient, where are defect clusters, and where is a specific need for action? CDQ Data Quality Cockpit provides significant KPIs regarding the quality of your customer and supplier master data. Gain instant visibility for your data with our user-friendly solution.
Ready-to-use solution for instant transparency
Data quality monitoring with minimum setup effort
To achieve a comprehensive data quality dashboard, you need a lot of conceptual and technical preparation upfront. With CDQ Data Quality Cockpit you don't need to start from scratch to create your company data quality rules engine, data reporting or to create a unified data model. We have put over 17 years of expertise into our CDQ Cloud Platform with a ready to go solution to offer one unified data quality performance view within minutes. 
You can download the assessment results in customizable data quality reports. In addition, technical access to the results allows you to use the CDQ Cockpit and create your own dashboards in your favorite BI tools.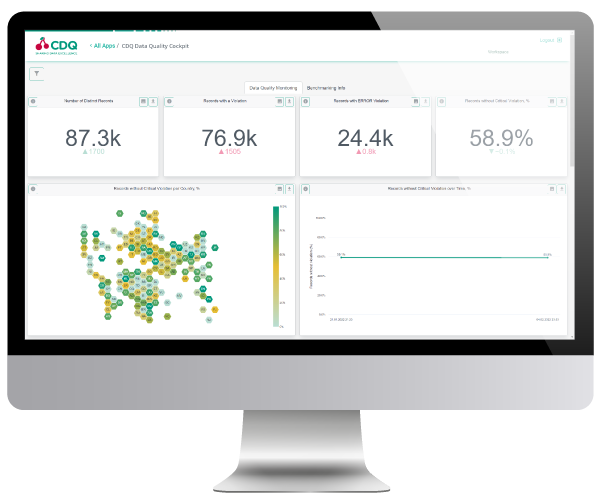 At a glance
Manage data quality the right way: with confidence and instant clarity 
Reduced cost to design, run and execute data quality assessment 
Over 2,300 out of the box and fully customizable data quality rules  
Continuous monitoring over time at configurable frequency  
Direct visibility of records including errors and duplicates​ 
Data quality benchmarking against peers 
Global tax and business identifier qualification (not limited to EU)
360° view on customers and vendors allowing reliable analytics, comprehensive predictions, and efficient business processes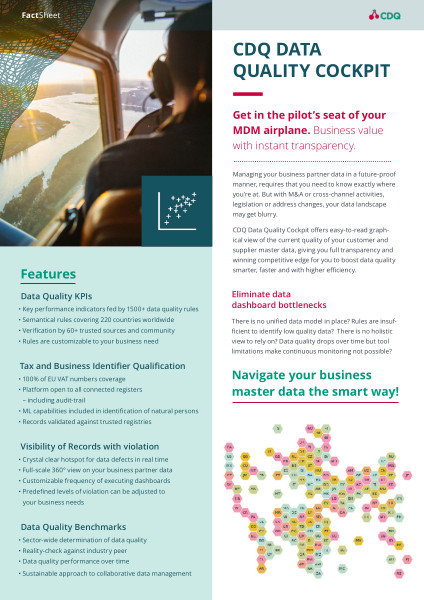 Download factsheet
CDQ Data Quality Cockpit key capabilities
Duplicate entries in your customer or supplier databases inhibit reliable analyses and can lead to higher maintenance efforts and process costs. By checking against more than 2,300 well-developed, customizable Data Quality Rules, CDQ Data Quality Cockpit detects duplicates and enables easy cleansing and augmenting of data records.
Find out how much of your existing data is correct, complete and fit-for-use via a rule-based data quality assessment. You can customize the service in terms check intervals and configure the data quality rules engine by selection of rules, customization of the ruleset or data quality profiling scope.
CDQ Data Quality Cockpit enables automated verification of name, address, and tax number by authority services. We cover 100% of EU VAT numbers and the platforms is open to all connected registries including audit-trail.
Data quality benchmarking is a critical success factor for companies and gives you an ever-increasing advantage over competitors. Get to know the truth about your data quality status and compare it to industry peers in the CDQ Data Sharing Community.
Discover the CDQ Cloud Suite Solutions
More data management knowledge