CDQ Compliance Screening
Your go-to sanctions screening tool for business partners to keep you and your business out of jail.
No matter if pharma, life sciences or aviation – all industries have this one thing in common: a serious regulatory obligation to adhere to a number of directives and legislations. The stakes are higher than you might think. CDQ Compliance Screening will safeguard your compliance with efficient sanctions screening process embedded directly into MDM workflows.
Mandatory sanctions screening of customer and vendor master data
Since 2021, with introduction of the 6AMDL, all companies involved in business with customers and vendors are required to perform business partner screening. CDQ cloud solutions enable integration of master data compliance checks in an efficient and simplified manner. Rooted directly in your master data management, these screenings ensure that only clean and compliant data records are created maintained in your ERP or CRM systems.
With our cloud-based solution, you can easily implement anti-money laundering, counter financing of terrorism, and prevention of corruption directives specific to EU, US, and other countries. CDQ Compliance Screening automates the validation and updates for regulatory checks, so you can stay on top of compliance with ease. It quickly identifies any data records that pose a risk to your regulatory compliance, providing a central view of your risk exposure. This means you can focus on running your business with confidence, knowing that you're always following the latest regulations and guidelines.
Process value booster
Compliant operations

By leveraging CDQ capabilities, a leading manufacturer of vertical windows and doors checked 700,000 business partners against 1,700 sanction and watchlists within 20 hours.
Keep your business out of jail
Dealing with a sanctioned entity can have serious consequences for your business. Associating with a sanctioned entity can damage your reputation and brand image, which is becoming increasingly important to customers, investors, and partners.
But the risks don't stop at the reputational level, but can impact individuals (freezing of assets, fines, getting sanctioned individually, or even imprisonment) and the whole company (assets freezing, fines, landing on a sanctions list or closing of business).
With CDQ you can safeguard your risk and compliance by smart master data management steps, proper due diligence and screening of your business partners against sanction-, watchlists, and PEP lists. Single or batch screening is crucial to maintaining accurate and up-to-date master data, and identifying and mitigating risks effectively.
By incorporating sanctions screening into your master data management processes, improve the quality of the name and identification data before being screened, to minimize false positives and time wasted by compliance experts. Don't let inaccuracies in your master data put your business in jeopardy. Take action now to safeguard your organization's future.
CDQ Recommendation
Do not do business with sanctioned parties: individuals, companies and vessels may be sanctioned
Monitoring: Check if your business partners get sanctioned over time
Risk Base Approach: Check important business partners more often and according to defined risk levels
Auditing: Keep a continuous log of your checks and decisions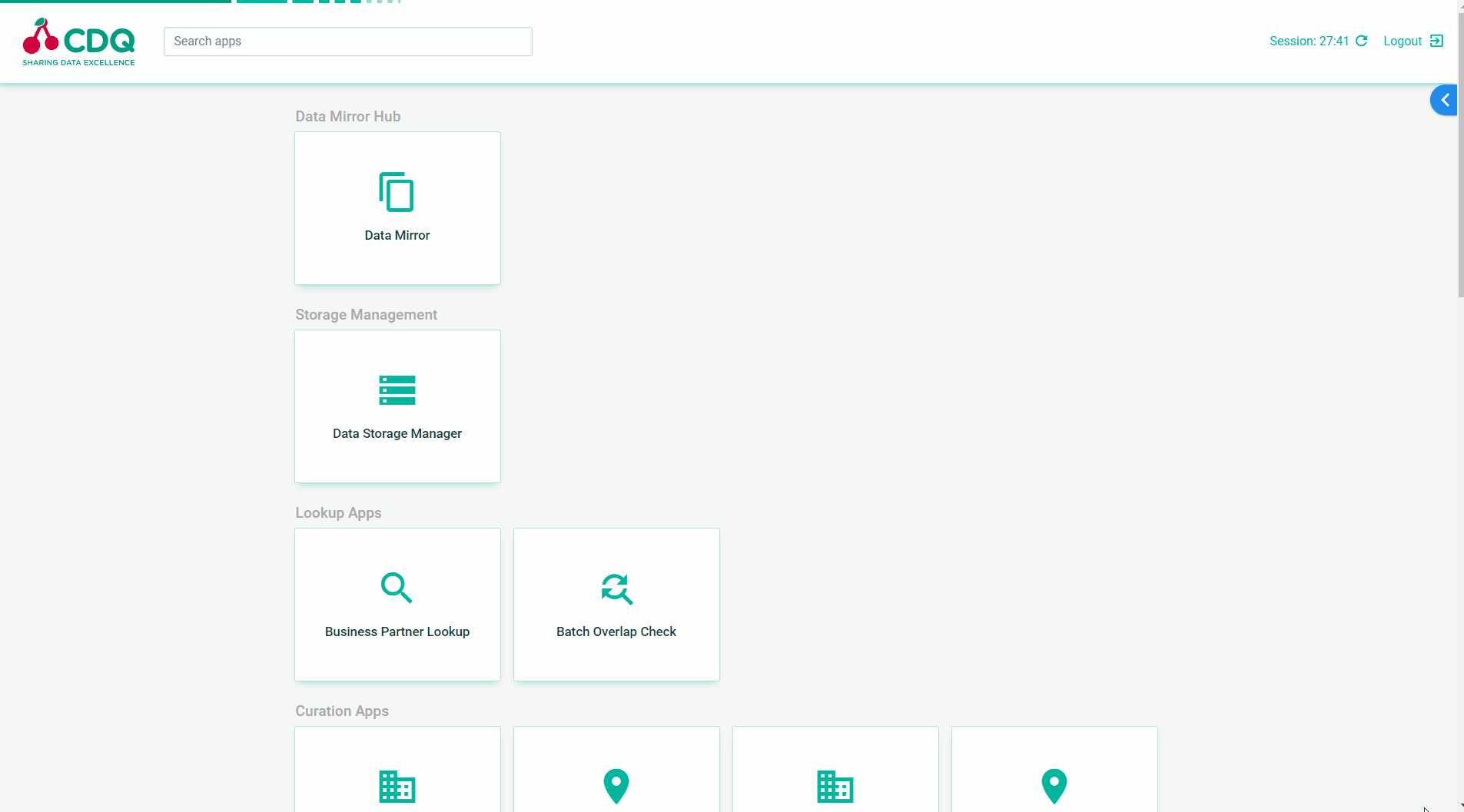 MDM: Common ground for your organizations' compliance, reporting and risk management
Compliance screening with CDQ capabilities makes it simple to perform regulatory checks on large business partner data
Keep up with changing regulations
Local laws in many countries, trade- and transport licenses for trade lanes
Avoid fines and losses in reputation
Ensured audit readiness: usage of relevant sources used, decisions documentation
Manage information sources easily
One-stop shop for all external data sources combined with data quality rules​
Connect different system landscapes
across regions, systems, and channels
Validate and enrich data across platforms by external data:
from the local registers, free public sources, commercial data providers, and the CDQ Data Sharing Community
Check the compliance status of all of your business partners:
vendors and customers, and distribute the results across platforms
At a glance
Automate your risk monitoring to keep your business partners clean and your business safe
Early warnings for non-compliant business relationships
Reports that enable in-depth analysis of sanction or watchlist matches or identified politically exposed persons
Integration of curated data provider directly into CDQ services
Identify group risks above the legal level and get updates for group changes
Base for Credit Limit and Vendor Spend Limit assignment in large groups and franchises
Reduced workload with positives confirmed by CDQ Data Sharing Community
Know Your Business Partner – at all times
Automate your compliance security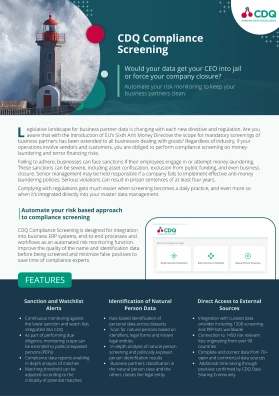 Download factsheet
Building blocks of CDQ Compliance Screening
In line with regulators - audit-proof documentation - daily updates of relevant lists - only official sources
30+ public authority lists, e.g.
OFAC SDN List and Consol. Sanctions (US)
SECO and FDFA Lists (CH)
Measures on RU due to UA situation (EU)
Entity Names, UN Resolution on N. Korea (CA)
Cuba Restricted List (US)
List of designated vessels pursuant to resolution 2270 (UN)
Reduced risk of insolvent or unwanted business partners - only official lists with proper references
100+ public authority lists, e.g.
Insolvencies (CH)
The Insolvency Service Register (GB)
Wanted by Ministry of Public Security (CN)
Defaulter Companies List (IN)
List of Excluded Individuals and Entities (US)
Wanted Suspects (RU)
Reduce risk of fraud, corruption, money laundering, terror financing - only official lists with proper references
800+ public authority lists and research, e.g.
parliament members
heads of state
military officials
family members of PEPs
national bank governors
etc.
Key capabilities
Business Partner Validation
CDQ Data Quality Rules help to increase data quality during creation of new business partners
Having business partner data in the right quality at the right time helps to increase match with legal reference sources
Higher degree of automation throughout the entire group
Business Partner Enrichment
One Stop Shop for external reference sources
Correct data ensure screening of the right business partner at the right time against the right sanction list (OFAC, EU, UN, World bank, etc.)
Reduction of false positives
Reduction of administrative overheads and keeping the balance between security and administrable tasks
Natural Person Screening
Identification of natural persons help us to identify potential PEPs and mitigate risks accordingly
CDQ address curation enables verification of non-registered companies, sole trader, craftsmen etc.
Discover the CDQ Cloud Suite Solutions