Our cloud platform offers several ways to better data quality
Software for data quality management not only needs to be effective, but it also needs to be well-connected to your systems and aligned with your business processes. Services and features of our CDQ Cloud Platform can be used via SAP connectors or easy-to-use online applications. They can also be seamlessly integrated into your existing ERP or CRM systems via API integration. And, of course, the various connectivity options can be combined for maximum flexibility.
Get automated updates into your SAP system
Import updated, cleansed, and enriched business partner data records directly into your SAP system or any other ERP or CRM software without error-prone manual efforts! Get informed proactively before you have business issues due to outdated tax numbers or changed addresses.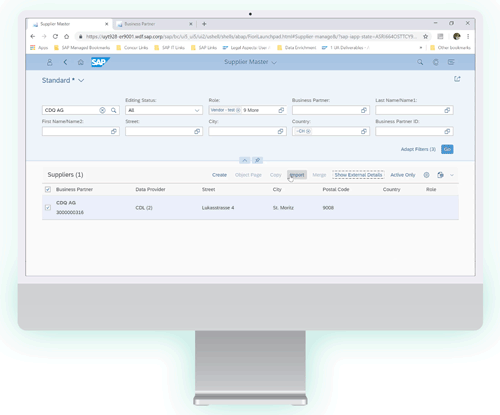 Comprehensive support for API integration
If you want to use Data Quality as a Service within your existing systems, our team will be happy to help you and accompany you during the entire integration phase. Our DevOps team ensures that our APIs are continuously maintained and updated to provide the best possible availability, security, and compliance with IT standards.
And in our CDQ Developer Portal, we provide API references, developer guidelines, and tutorials as a point of information for technicians.