CDQ AG announced today a strategic investment from SAP to advance and strengthen the existing partnership between CDQ and SAP and foster the goal of delivering highly automated master data management solutions on a global scale, including master data quality, master data governance and master data sharing capabilities. Through the SAP® PartnerEdge® program, the company intends to offer customers smart automated solutions to issues around data quality and data governance that many companies struggle with today.
With industry expertise from SAP, CDQ will continue to position innovative data automation services permanently in the market, which is growing in size and relevance. According to a recent study by Gartner, organizations will leverage augmented data quality solutions increasingly to reduce manual tasks for data quality improvements. This also highlights that data governance and data quality are top priorities in data management, both today and in the future.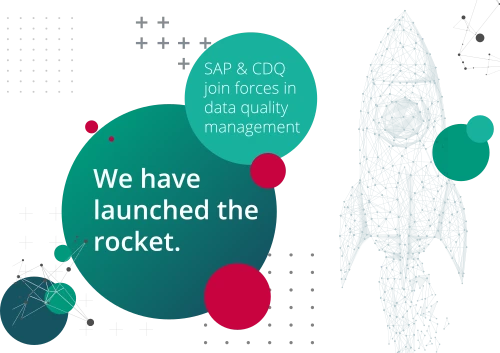 The collaboration aims to enhance SAP Master Data Governance to become the gateway to access external master data content and rules provided by CDQ. This will provide the capabilities to highly automate the end-to-end master data management. SAP Master Data Integration as part of the SAP Business Technology Platform (SAP BTP) enables a consistent view and integration of relevant master data across business applications within hybrid landscapes of intelligent enterprises.
The integrated management of master data between SAP and CDQ will be based on the SAP One Domain Model as a major foundational component of the SAP Business Technology Platform. As a vision, SAP and CDQ intend to increase the automation in master data management and reduce the cost for high master data quality by eliminating error-prone manual tasks. The planned solution portfolio will include functionality to enable search, creation, and update of master data, combined with a unified access to master data of the CDQ community and globally available external data sources, as well as leveraging a combined set of master data quality rules. These additional capabilities of SAP Master Data Governance will further reduce the manual master data management efforts.
The CDQ Data Sharing Community consists of leading companies in various industries that share data quality rules and best data with each other and enrich their own data with public sources, all in a secure and highly scalable cloud environment. This allows members of the CDQ Data Sharing Community to share validated records with each other, enabling highest quality levels for a fraction of the cost.

"Master data, such as customer and vendor data, changes too fast for anyone – companies struggle to keep up with changes and look for smart automation. The data is non-competitive, so companies are open to share the burden with others. At the same time, they look for the highest data quality, as important business transactions and decisions rely on accurate data," says Dr. Dimitrios Gizanis, CEO of CDQ AG. "The concept of data sharing is an innovative approach to data quality management, combining cleansing tools with data content at low maintenance costs. This relationship enables us to provide our joint customer base a leading solution in the market for better data quality."

"SAP is pleased to build on its strong relationship with CDQ AG to help unlock the full potential of master data automation and significantly reduce the manual master data management efforts of our combined customer base," said Dr. Andreas Doehrn, Head of Master Data Management Engineering at SAP.
In its capacity as investor, SAP will contribute to the development of CDQ's go-to-market strategy, and the parties will explore opportunities for technical integrations combining CDQ's solution with SAP solutions.
Here you can calculate the business case of data sharing for your business.