Protection from insecure business partners
Safe & compliant business operations
Whether insolvency, government sanctions, military conflicts, or natural disasters: Insecure business partners are a significant risk for companies and can lead to non-payment, fines, or loss of reputation.
However, it is difficult to identify affected partners and usually requires a detailed and elaborate analysis of potential customers, suppliers, and company networks. Our Risk & Compliance application supports businesses in doing safe and compliant business operations.
In addition, we protect our customers from the unintentional use of personal identifiable information and fraud attempts with falsified payment data.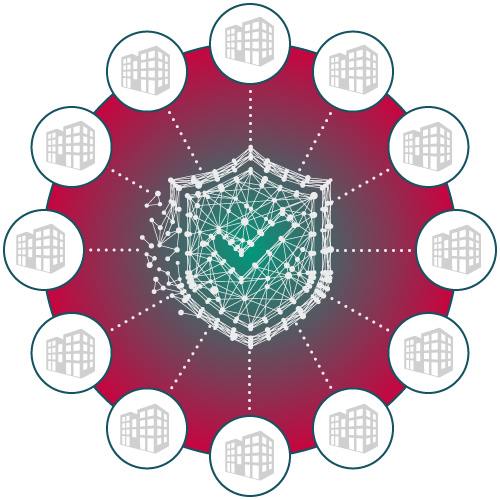 Prevention of payment defaults
Insolvency warnings
Doing business with illiquid companies entails immense risks and is often associated with financial losses. Our Risk & Compliance product proactively alerts you to a business partner's present or impending insolvency.
Geographical risk warning
Natural disasters, environmental events, uprisings, or military conflicts affect the respective region and the global markets and supply chains. Our CDQ Suite warns of existing or impending political and geographic risks, protecting your company from potentially insecure business partners.
Trusted bank data & fraud alerts
Invoice fraud prevention
Fraud attempts with falsified invoices are a serious threat for companies. But the manual verification of new or changed bank details is time-consuming and error-prone. With our Trust Score, the reliability of a bank account can be verified in real-time. In addition, the members of our community alert each other to new fraud attempts.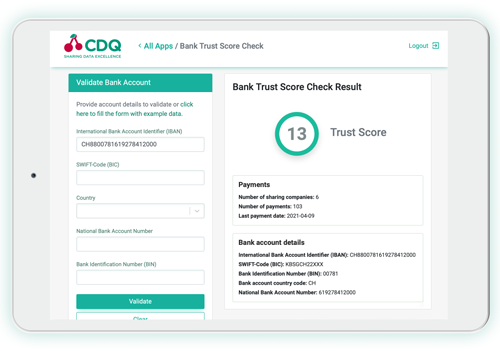 Business partner relationships
Corporate mergers, acquisitions, openings, and closings lead to constant changes in the legal structures of companies and linkages between business entities, which are difficult to monitor. Not knowing about branches impedes fast duplicate resolution, reliable spend analyses or may lead to wrong decisions due to identical company names with different addresses.
We enrich your master data with legal and group structures to reveal business partner hierarchies.
More capabilities of our Risk & Compliance application
Geographical & Political Risk Alerts
Obtain proactive alerts about geographic or political risks that could compromise your supply chain.
Insolvency Warnings
Receive notifications about a business partner's current or impending insolvency.
Invoice Fraud Alerts
Receive alerts when a fraud attempt with fake banking details is detected.
Sanctions and Watchlists Monitoring
Get automated alerts on companies, affiliates, or persons sanctioned or affected by embargoes.
Bank Account Verification
Get trusted bank account data, peer-validated by renowned global companies.
GDPR Master Data Screening
Identify personal data that is unintentionally hidden in your business partner master data.