CDQ Fraud Prevention
Ready to use fraud detection solution for safe and compliant business operations 
Insecure business partners are a significant risk for companies and can lead to non-payment, compliance issues, costing not only money, but also the reputation. Guard your business integrity and prevent any compliance related fines with our automated fraud alert service.
Get your on-demand recording now!
CDQ Fraud Prevention Webinar: Combating fraud challenges with data collaboration
Discover how the power of community intelligence can safeguard your business against continuously evolving fraud techniques. At CDQ we believe we are stronger together: tune in and find out, what makes CDQ Fraud Prevention a protective shield that is hard to tear down.
Prevent fraudulent invoices
CDQ Trust Score and community warnings
Fraudsters continuously develop their methods. Companies can only prevent fraud by staying on top of the game with ongoing improvement of fraud prevention.  
Payment fraud with falsified invoices is a serious threat for companies. Instead of error-prone manual verification of new or changed bank details, you can automate data maintenance by utilizing the strong sharing network of larger enterprises. CDQ Trust Score indicates reliability of a given bank account in real-time. In addition, the members of our community alert each other to new fraud attempts and bank data can be monitored accordingly.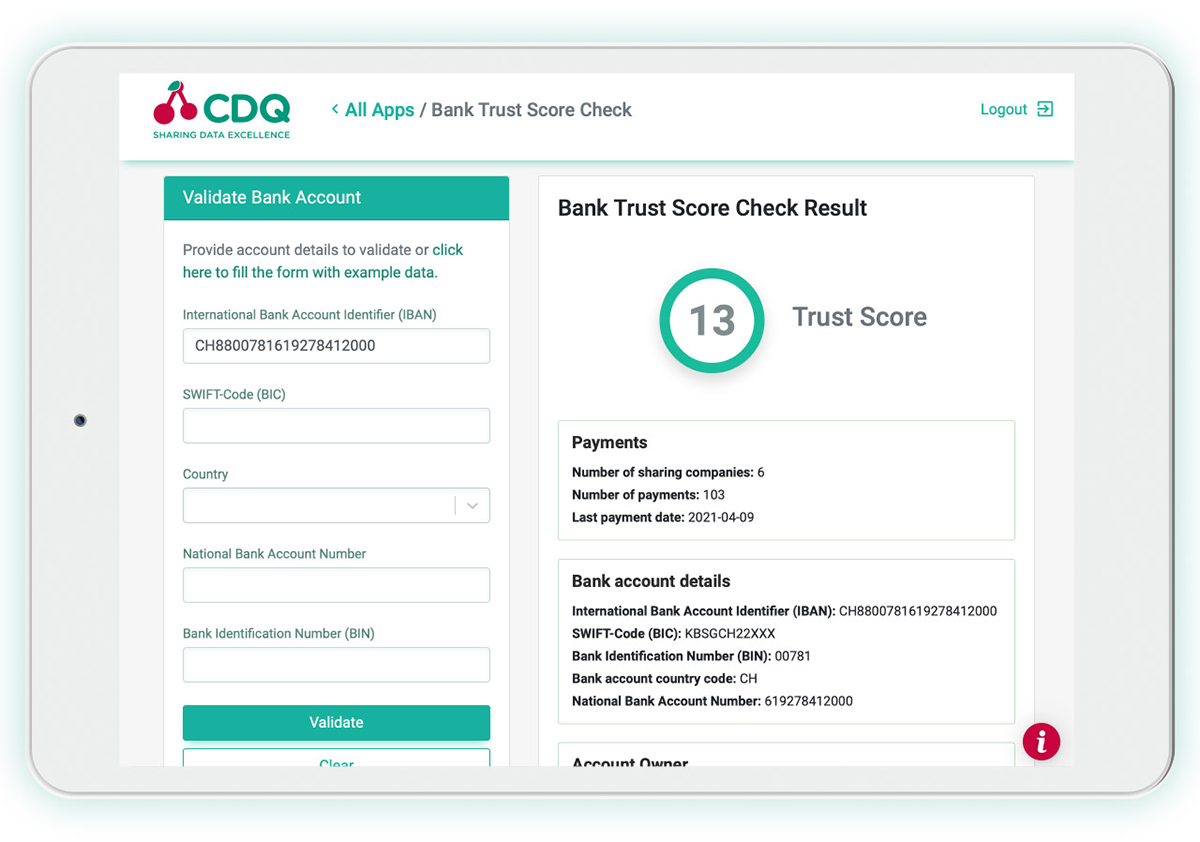 Fraud intelligence for early risk identification
Automated alert flow powered by collaboration
We leverage Data Sharing Community know-how to build an efficient process to prevent fraud. Use automated tools to increase security and design fraud 
prevention process​ that best matches your business situation. Bank accounts can be validated via web app or through direct system integration​ into your workflows. You can also individually configure trust score calculation to fit your risk threshold.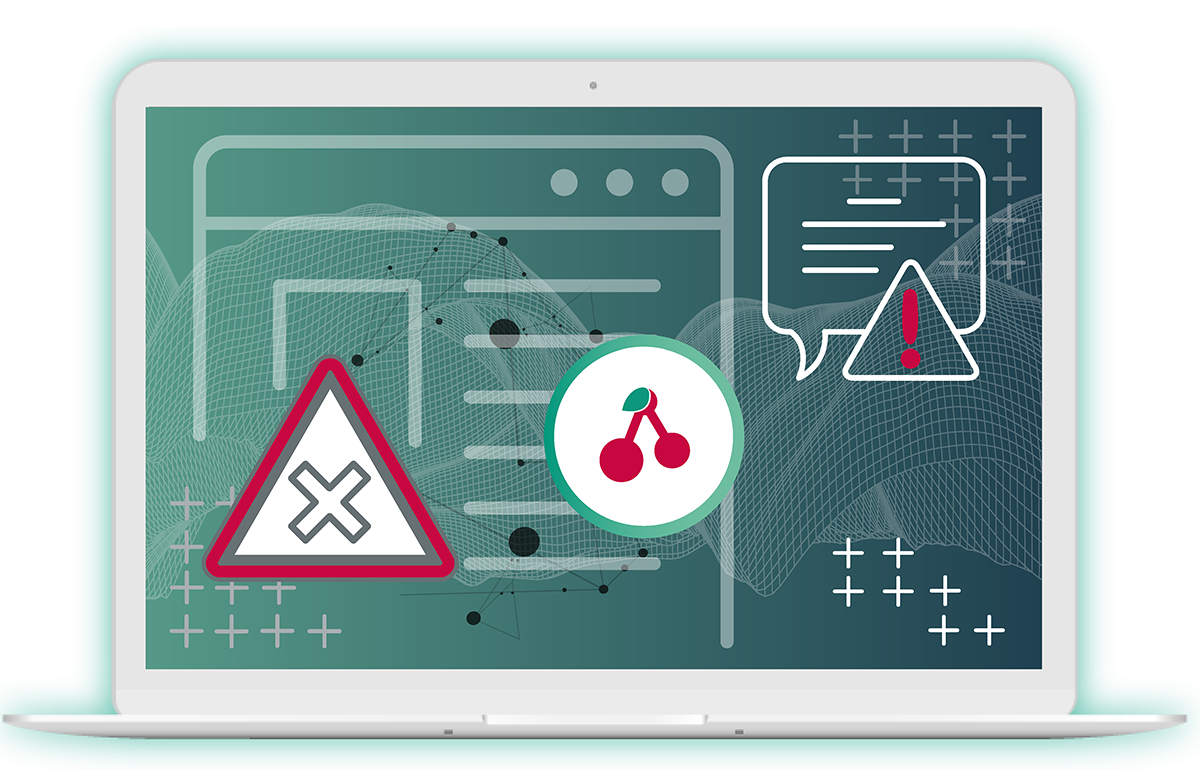 Latest articles from our blog
Business relationships in many organizations are not limited to local and, especially, to personally known companies. Aside from this fact, the different…
It's quite obvious that master data is a crucial element for any organization. However, in today's world, it is equally important to have compliant master data.…
In order to qualify for the zero VAT rate when selling goods to a business located in another EU member state, a company must demonstrate that the goods have…
At a glance
Safeguard your company from insecure business partners on full fraud alert
Out-of-the-box fraud protection via web app or direct system integration  
Prevention of payment defaults with proactive insolvency warnings 
Geographical and political risk alerts for supply chain protection 
Real-time bank account verification  
Master data enrichment to reveal business partner data hierarchy  
Protection from unintentional use of personal identifiable information  
Direct access to continuously updated Fraud Case Database 
Community know-how from the CDQ Fraud Prevention working group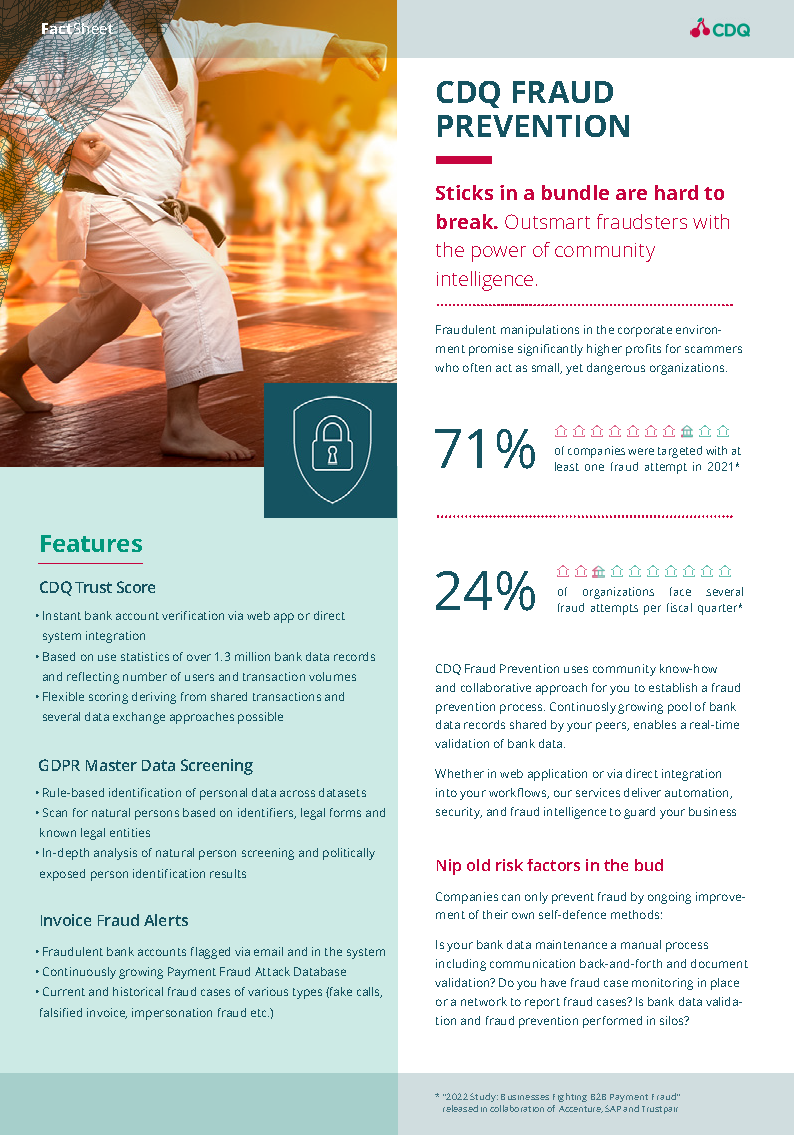 Download factsheet
CDQ Fraud Prevention key capabilities
Non-compliance of trade embargoes and sanction lists can generate significant costs and reputational damage. ​Get automated alerts on companies, affiliates, or persons sanctioned or affected by embargoes.
Automate screening for critical accounts and get trusted bank account data with just one click. Instant verification via web app or direct system integration for real-time member companies of our Data Sharing Community.
Stay compliant no matter the number of your business partner records. Easily identify hidden personal data in your business partner master data and generate compliance report quickly.
Natural disasters, environmental events, uprisings, or military conflicts affect the respective region and the global markets and supply chains. Obtain proactive alerts about geographic or political risks protect your company from potentially insecure business partners.
Receive notifications about a business partner's current or impending insolvency. We proactively inform you about flagged insolvency cases during data maintenance.
Receive alerts when a fraud attempt with fake banking details is detected. The fraud case browser enables companies to share fraud cases internally across all systems.
Discover the CDQ Cloud Suite Solutions
More data management knowledge