Webinar on Demand: Data Quality Cockpit. Instant transparency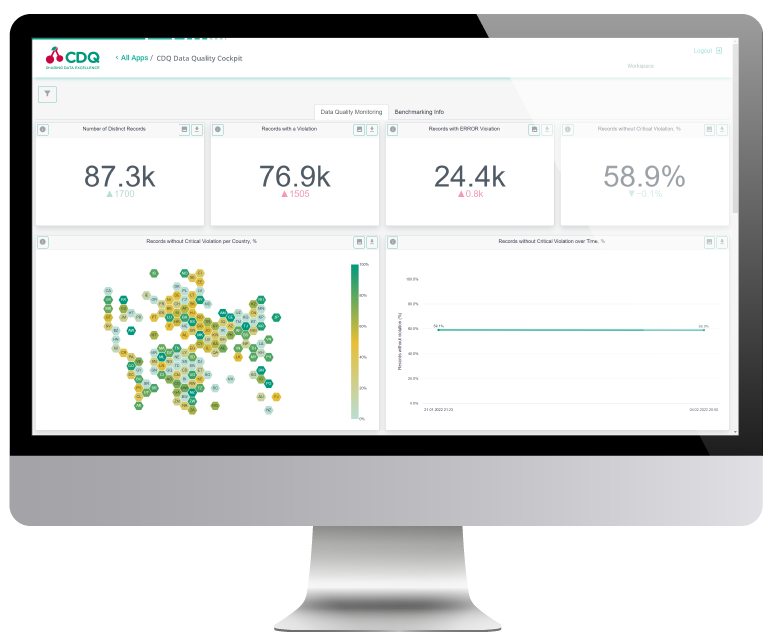 To tap into market needs, we recently launched the CDQ Data Quality Cockpit and created one hotspot for monitored company business partner data. By using the cockpit you can easily identify lacking business partner data quality via a dashboard that offers a daily view on data performance. 
During a 30 min. webinar, we introduce the Data Quality Cockpit and showcase the simple benefits it offers. Often cockpits a lot of data that still require pulling facts and figures together to get a good scope and holistic view of the status quo. Good decision-making requires clarity and data quality. In order to know in which projects to invest time and resources, a benchmark and clear view is a necessity. Simplicity cannot be overrated.
Ready to go solution within 2 weeks
There's no need to start with a greenfield to create your company data quality rule engine, data reporting or to create a unified data model. We have put over 15+ years of expertise into our cloud platform with a ready to go solution to offer one unified performance view within minutes. All it takes is 30 minutes to get all the information you need.
What differentiates the CDQ Data Quality Cockpit?
Clear identification of lacking business partner data quality.
Simplicity in portraying where to take action to make an impact.
An enabler of strategic measures to improve data quality over time.
With a few steps your company can be up and running in two weeks time. Some easy steps to get onboarded and start our journey together: 
Step 1: Discovery call with sales
Step 2: Contract
Step 3: Onboarding
Step 4: You're ready to start using the cockpit

Related blogs
We all know that trusted business partner data empowers organizations to uncover new opportunities, build stronger relationships, and enhance their market…
Payment fraud is on the rise and its methods continue to evolve as technology advances and security measures improve. In this article, I will discuss some of…
At CDQ, we take data quality seriously. And at the core of our data quality journey lies the active involvement of our Data Sharing Community. We believe that…